Renowned Celebrity Fitness Photographer Irvin Gelb Launches Web Site
Official January 2007 Launch of www.irvingelb.com Highlights Expansive Portfolio of Cover, Editorial & Advertising Photographs to Worldwide Marketplace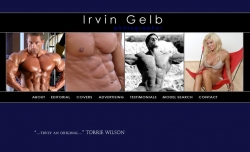 Los Angeles, CA, January 10, 2007 --(
PR.com
)-- Irvin Gelb, world renowned celebrity fitness and bodybuilding photographer announced the official launch of his first web site,
www.irvingelb.com
, today.
The new web site will contain select photographs from Irvin's 15+ years in the fitness and bodybuilding industry for viewing to fans and potential clients. During his career, working with the top international magazines and companies in the fitness/bodybuilding industry, Irvin has photograhed some of the world's best female and male physiques including celebrities like the WWE's Torrie Wilson, Dwayne "The Rock" Johnson, Triple H, amongst others. He has also contributed to many books including a collaboration with Gov. Arnold Schwarzenegger and Gold's Gym.
Besides being a contributor to American magazines such as Musclemag International, Muscle & Fitness, Planet Muscle amongst others he also licenses his work to magazines in over 20 countries. During his career Irvin has created many memorable images for some of the top supplement companies in the world including BSN, Met-RX, Universal Nutrition, MHP, Cytosport and EAS.
Having had an extensive background in the arts working as a film and television producer Irvin brings a unique visual perspective to the fitness industry. "This year I will increase my work with entertainment celebrities who are just as fit as the athletes that I've worked with over the years," said Irvin. "There's more of a demand these days for photographers with my expertise to work with Hollywood's top stars who have fit bodies. I also want to give an opportunity to amateur models around the world providing them with an easy way of being able to contact me through my model search contact form on the web site."
"I had the good luck of meeting and working with Irv when I first broke into fitness modeling and have worked with him many times since then," said the WWE's Torrie Wilson. "Not only has Irv always been extremely professional and easy to work with, but I have always loved the pictures that we create. Irv is truly an original and I will always jump at the chance to work with him!"
Irvin plans on expanding www.irvingelb.com to include helpful tools and information for models in the fitness industry that will help guide them with their careers.
###
Contact
Irvin Gelb Photography
Irvin Gelb
310-788-9333
www.irvingelb.com

Contact