Love is Murder Novelist's Boot Camp, Takes Mystery out of Writing Crime Fiction
Novelist's Boot Camp workshop a headliner at Chicago's Love is Murder mystery conference.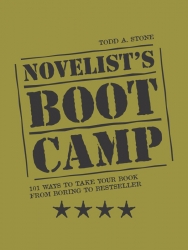 Naperville, IL, December 29, 2006 --(
PR.com
)-- "It would be a crime to have a dream of writing a novel and not be able to achieve it," says Todd A. Stone, author of Novelist's Boot Camp: 101 Ways to Take Your Fiction from Boring to Bestseller (Writers Digest Books, ISBN 1582973601), "but at this year's Love is Murder Conference and Convention, our boot camp is going to help you beat the rap and make that dream come true."
Stone's intensive Novelist's Boot Camp workshop—based on his book by the same name—is one of the headlining events at the 9th annual "Love is Murder" conference/convention for readers and writers of mystery, suspense, thrillers, romantic suspense, and other dark fiction and true crime writing. The conference is scheduled for February 2-4 2007 at the Wyndham O'Hare Hotel near Chicago's O'Hare Airport. Headlining authors include Ken Bruen, Anne Perry, Raymond Bensen, Carolyn Haines, Max Allan Collins, Charlaine Harris, Robert W. Walker, and local Guest of Honor David J. Walker.
The conference/convention also features a full offering of panels, presentations, a crime scene reenactment, weapons demonstrations, and a Scotch tasting hosted my Master of Whisky Martin Duffy from Johnnie Walker. More information on the conference can be found at www.loveismurder.net.
The former Army Infantry Airborne Ranger, West Point Assistant Professor, and award-winning novelist's new book and workshop provide a book-writing battle plan, strategy, tactics, and kick-in-the-pants to aspiring and experienced authors.
"Novelist's Boot Camp helps you discipline your creativity," Stone went on. "The book de-mystifies writing a novel by providing strategies and specific techniques. These drills are tools, not rules, and are very accessible and easily adaptable to an individual's style and personality."
Endorsements for the book and workshop come not only from the to-be published, but from best-selling authors as well.
"For anyone who ever thought they might like to write a book, for those of us who have already written several, Novelist's Boot Camp will kick start you into your computer chair and keep you there until you finish your manuscript," said Denise Swanson, bestselling author of the Scumble River mystery series.
The boot-camp-in-a-book includes 101 carefully crafted drills designed to show you how to:
• Identify and develop story ideas—Comprehensive Concepts--with laser-like perception
• Create realistic "alpha" characters who can take charge of any scene
• Know what motivates a protagonist's enemy so you can amp up the conflict
• Develop a Master Story Summary to avoid sneak attacks from flawed plot twists
• Dodge the land mines of bad writing like Deadly Modifier Buildup (DMBU)
• Triage scenes to ensure a thorough and precise revision process
Plus, there's a twelve-week boot camp battle plan that writers can use to maintain momentum and finish their novels.
"Love is Murder is the Midwest's premier and Chicago's only mystery/dark fiction event," said Stone. "We're honored to be a part of Love is Murder and to bring our workshop to aspiring and published authors. This book is helping people achieve their dream—they've made writing a novel a mission and they're making real progress towards accomplishing that mission."
###
Contact
TVM Productions
Teresa V.M. Stone
630.357.4142
www.storytellerroad.com

Contact