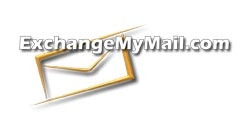 Albertson, NY, December 29, 2006 --(
PR.com
)-- Exchange My Mail, Inc has officially launched the new
Good Mobile Messaging
4.9 (formerly known as GoodLink). This upgrade is available to both existing subscribers and new customers. Good Technology is making its mark globally, operating in over 80 countries around the world and currently offered by more than 180 carriers across the globe.
With Exchange My Mail service, a Good Mobile Messaging customer will have the ability to wirelessly sync email, calendars and contacts on the device of their choice. Including but not limited to the Motorola "Q", the Nokia "E" series, Palm Treos , and a host of other "smart" phones.
Customers of Exchange My Mail can easily add Good straight from their control panel. Of course if any questions arise, their well trained support staff will be happy to assist on the phone or 24/7/365 through their email system. With no upfront investment, Good Mobile service can be added for just $19.99 per month with a 1 time set-up fee of $34.99. Just another example of how they give customers enterprise-class
Hosted Microsoft Exchange
email at a price that is affordable.
ExchangeMyMail.com offers a wide variety of Exchange hosting plans from the single user up through substantial mid-sized companies starting as low as $9.99 per month. With no initial investment and no contracts, it is hard to imagine a better deal! You can find out more about them by visiting their website www.exchangemymail.com or giving them a call at 1-888-608-MAIL.
About ExchangeMyMail.com
As a full service provider of Microsoft Exchange e-mail hosting services, ExchangeMyMail.com provides custom yet flexible solutions designed for any size business, from the single user to large scale operations.
By focusing on e-mail specific services, ExchangeMyMail.com provides clients with access to unparalleled expertise and the latest Microsoft technology to help improve efficiencies without incurring additional administrative burden. With near 100 percent up-time and a variety of customized hosting plans, the solutions integrate seamlessly with other e-mail services, including Global Relay's comprehensive suite of e-mail archiving and compliance solutions.
All solutions are backed by an expert technical support team with in-depth knowledge of Microsoft Exchange, available through multiple convenient touch-points. Helping to deliver reliability, stability and efficiency into everyday operations, ExchangeMyMail.com allows organizations of all sizes to focus on their business rather then supporting e-mail applications.
For More Information: (Media and Industry Analysts Only Please)
Exchange My Mail Inc.:
Steven Daneshgar, Interactive Public Relations for Exchange My Mail Inc.
Tel. 888-608-MAIL (6245) X10 or steve@exchangemymail.com
http://www.exchangemymail.com
###