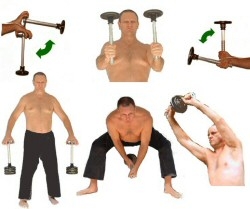 Ringwood, NJ, December 29, 2006 --(
PR.com
)-- On November 28, 2006 the United States Patent and Trademark Office awarded a patent to Al Connelly for innovations in exercise equipment. The innovations are designed into the Punch/Block Power Charger® manufactured and sold by Martial Arts Development Corp. headed by Mr. Connelly. One of the key innovative features is the variable diameter gripping disk for developing a strong grip, right out to the tips of the fingers. It accommodates a wide range of hand sizes with its opposing spirals design. Other ways of using the product develop the arms, shoulders, back, and legs.
The Punch/Block Power Charger® was originally designed for athletes in grappling and the martial arts. The original inspiration was from grappling and the martial arts. It can be used for conditioning for any sport that involves gripping such as golf, tennis, and baseball. Law enforcement personnel have also found it useful for improving their power for controlling and restraining suspects and prisoners, reducing the need for deadly force.
The product has proven of use in physical therapy. Martial Arts Development Corp. has entered into agreement with Uni-Cam Inc. at www.uni-cam.com, which develops and sells physical therapy equipment, for it to distribute the product in a therapy oriented configuration. The physical therapy version is called the Therapeutic Weight System.
The product has evolved since its original introduction into the market in 2003. In 2003 there were only large and small versions. Packages have been developed for those who want to focus on arm, shoulder, and back development. There is even a package that includes one small shaft with a larger alternate grip for a concentration on wrist and forearm exercises. The grip size options have been expanded to include a 1½" option. Shown here is one of the larger configurations with chrome weight plates. All configurations come with a manual and an instructional video is available. For the convenience of our customers there are now packages available with weight plates. This has proven very popular with sales being made as far away as Europe.
###