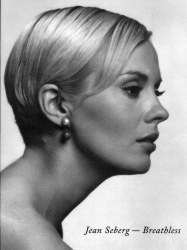 Marshalltown, IA, September 03, 2010 --(
PR.com
)-- A new documentary feature film on actress and native Iowan Jean Seberg has been awarded a major media grant from Humanities Iowa and the National Endowment for the Humanities. The grant will fund a portion of the cost of production on "Movie Star: The Secret Lives of Jean Seberg," produced, written and directed by Emmy-nominated filmmaker Garry McGee and award-winning filmmakers Kelly and Tammy Rundle of Fourth Wall Films. The fiscal sponsor for the grant is the Marshall County Historical Society in Marshalltown, Iowa.
"We are grateful to Humanities Iowa for its support of this important documentary project," said Producer Garry McGee. "The grant will help us bring Jean's unique and compelling story to the screen."
"Movie Star: The Secret Lives of Jean Seberg" is the first film to focus on the private side of the famous Marshalltown, Iowa native. The documentary will also examine Seberg's very public American and international film career, civil rights era activism, and her mysterious death in Paris.
McGee, author of "Jean Seberg: Breathless" and co-author of "Neutralized: The FBI vs Jean Seberg," recently received a Midwest Regional Emmy® nomination for Writing on "The Last Wright," a documentary he co-produced with Lucille Carra.
McGee joined forces with husband and wife team Kelly and Tammy Rundle, producers of the critically-acclaimed documentaries "Lost Nation: The Ioway" and "Villisca: Living with a Mystery," to complete "Movie Star."
"The Jean Seberg documentary comes to us with a treasure trove of exclusive interviews and archival materials from Jean's family and other members of her personal circle," said Producer Kelly Rundle.
"She is a fascinating person and still has a huge following all around the world. Our documentary will dispel many of the myths surrounding Jean's life, work and untimely death," said Producer Tammy Rundle.
Seberg made her acting debut in Otto Preminger's "Saint Joan" and starred in Hollywood films "Lilith", "Paint Your Wagon", and "Airport," among others. She is best known for her performance in director Jean-Luc Godard's groundbreaking French film "Breathless," recently rereleased on its 50 year anniversary to rave reviews and a new generation of Jean Seberg fans.
"Movie Star" is slated for release in late 2011.
Humanities Iowa is the only non-profit organization in Iowa committed to bringing the humanities to life and to the public through interactive programming, publications, and events.
The Marshall County Historical Society was formed in 1908 to provide a public link to Marshall County's past, and collects and preserves artifacts and documents pertinent to Marshall County history.
Fourth Wall Films is an independent film and video production company formerly located in Los Angeles, and now based in Moline, Illinois.
###