The Washington, DC Italian Language Meetup Group Announces Fall Lineup of Films for Cineforum Italiano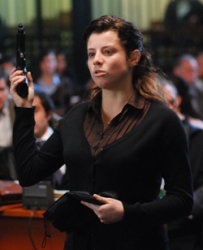 Washington, DC, September 11, 2010 --(
PR.com
)-- The Washington, DC Italian Language Meetup Group has announced the fall schedule for Cineforum Italiano. The monthly screening of Italian films takes place each month at the Letelier Theater in Washington, DC. Advance tickets are available exclusively to group members (www.meetup.com/italiano). All films are in Italian with English subtitles.
Here are the highlights of the fall lineup:
The Sicilian Girl (La siciliana ribelle) -- Sunday, September 26 at 5:00pm
Based on the true story of Rita Atria, The Sicilian Girl tells the gripping story of a seventeen–year–old girl who broke the Sicilian Mafia's code of silence and testified against the "family business" after both her father and brother were murdered by a rival family.
The Postman (Il postino) -- Sunday, October 17 at 3:00pm
After being forced into exile, the renowned Chilean poet and diplomat Pablo Neruda is granted sanctuary by the Italian government. He arrives on the isle of Capri and hires the uneducated Mario as his personal postman. Mario slowly gains the aloof man's confidence and a touching and improbable friendship begins as the postman learns that within a man's words lies his soul.
Facing Windows (La finestra di fronte) -- Sunday, November 7 at 3:00pm
Overburdened and stuck in a greying marriage, Giovanna takes to caring for the Jewish Holocaust survivor her husband brings home. As she begins to reflect on her life, she turns to the man who lives across from her.
Sacred Heart (Cuore sacro) -- Sunday, December 5 at 3:00pm
This is the story of a workaholic businesswomen Irene who experiences the loss of two of her friends by suicide. This loss, combined with her desire to sell off a piece of property that includes the living quarters of her eccentric mother, ends up sending her on a journey of emotional and spiritual transformation.
About The Washington, DC Italian Language Meetup Group
The Italian Language Meetup Group (also called Italian Meetup) is a private group based in Washington, DC that provides opportunities to speak Italian, enjoy Italian culture and make new friends. The group originated in 2003 on a social networking portal called Meetup.com (also called Meetup) that facilitates offline group meetings in various localities around the world. Meetup allows members to find and join groups unified by a common interest. Since 2003 the Italian Meetup has hosted more than 300 events and grown to more than 1,600 members.
Website: www.meetup.com/italiano
###
Contact
The Washington, DC Italian Language Meetup Group
Keith Gilbert
202-329-1266
www.meetup.com/italiano/

Contact