The Iron Snake by John Gaudet, An Unforgettable Saga of a Railroad in Africa that Changed the Lives of Millions
A novel that foreshadows what will happen fourteen years later with the outbreak of WWI and the bitter fighting between British and German colonial troops in East Africa. Gaudet captures the spirit and essence of the Victorian Africa of the British, of the Africans, and of the world.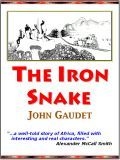 Richmond, VA, January 07, 2007 --(
PR.com
)-- Brandylane Publishers, one of Virginia's most respected names in publishing, today released a novel set in the last few years of Victoria's reign at the height of the Empire, a period marred by unrest in Africa. The British are building a railroad in their Kenya Colony, an exciting world of hate, passion, loyalty and violence. Stories abound about the wild nature of the line—shaky wooden trestle bridges over enormous chasms, man-eating lions pulling railway workers out of carriages at night—and back home the British Parliament is upset that construction of what the Africans call the Iron Snake will never return the enormous investment. The tabloid term, 'Lunatic Express,' seems to fit.
Join the brave spirited Alice McConnell, the Hon. Geoffrey Brian Scofield Stanford, and a host of other fascinating, passionate characters as they witness Africa's first steps into the modern era, and in the process, the transformation of their own lives.
The author, John Gaudet has set a fast-paced, believable adventure that has just the right balance of humor, pathos and passion to succeed. He is a writer in the tradition of the best historical adventures and his book benefits from many years living in Africa. His work has appeared in the Washington Post and various literary and local magazines, including Pleasant Living a bi-monthly magazine dealing with life in the Chesapeake Bay.
"The Iron Snake is an example of what hard work, extensive travel, determination and talent can achieve." — Alexander McCall Smith, bestselling author of the Botswana Mma Ramotswe series, and 2004 Author of the Year, Great Britain.
"...a fascinating and well-written glimpse into colonial Africa, a good mix of history, romance and adventure." — Barbara Esstman, Night Ride Home, ABC Movie Special and the 200th Hallmark Hall of Fame by Hallmark Productions.
Please send tear sheet to: Brandylane Publishing, Inc.: Brandylanepublishersinc@yahoo.com
The book can be ordered from fine booksellers or directly from the publisher by e-mail or calling 804.644.3090, faxing 804.644.3092, or by writing: 5 South First St., Richmond, Virginia 23219. Quantity discounts available to booksellers. VISA and MasterCard welcomed. ISBN 1-883911-72-9 trade paperback 5.5"x 8.5" Price: $16.95, plus shipping and handling. 5% VA Sales Tax (VA buyers only). Visit us online at www.brandylanepublishers.
###
Contact
Brandylane Publishers, Inc.
John Gaudet
804.644.3090
brandylanepublishers.com
Media contact: Brandylane Publishers, 5 South First St. Richmond, VA 23219
Mary Tobey, Publicist or Robert Pruett 804.644.3090; FAX 804.644. 3092
or rhpruett@brandylanepublishers.com
For details about the book: see www.theironsnake.com

Contact