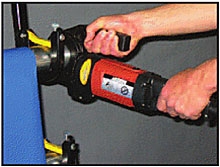 Chicago, IL, September 28, 2010 --(
PR.com
)-- Ralph Cooper of All Court Fabrics makes a good point. In order for gym floor covers to work, you need to use them. And you are much more likely to use gym floor covers if install and roll up is fast and easy.
All Court Fabrics has the install of Gym Floor Covers figured with its line of mobile storage racks (in two sizes for those with tight storage quarters.) But what about roll up? While the storage racks crank system makes it fast, the R&D team at All Court Fabrics thought, gym floor cover roll up can still be faster. Now with the new Power Winder covers can be installed, and rolled up, fast and easy.
Says All Court Fabrics' Cooper: "The Power Winder Makes the roll of the gym floor covers after use so much much easier. Plus there is no maintenance on the Power Winder, works easily out of the box."
With a Universal 115v Motor, heavy duty paddle type switch with safe lock-off switch, and separate forward/reverse switch, the Power Winder quickly and easily winds up gym floor cover sections to store on mobile rack. Now anyone can take up the gym floor cover with this powered winder.
"Gym floor covers do have a real cost in terms of labor," says Cooper, "which while well worth it in terms of protecting your gym floor investment, All Court Fabrics has reduced that cost even further over the lifetime of your gym floor cover."
Buying Gym Floor Cover? Make sure to consider these issues before you get covers for your gym floor:
Buy the grade that's right for your situation. At All Court Fabrics there are 4 gym floor covering grades available. A simple estimate of usage over the course of a year (daily? weekly? Monthly?) will determine the proper material grade.
Know your warranty. Higher materials grades equate to higher warranty, some gym floor cover grades at All Court Fabrics have warranties approaching 20 years.
Is it Fire Retardant? All gym floor cover sold at All Court Fabrics is protected against fire hazards, you must make sure your gym floor cover is fire retardant to properly protect your gym floor investment.
Finally, the customer support team at All Court Fabrics is expert and experienced in assessing your gym floor cover needs. Call for direct communication via phone to determine the right fabric for your specific needs @ 1-800-401-6533. Quality material, expert support and fast ship: that's the All Court Fabrics promise.
www.AllCourtFabrics.com
###