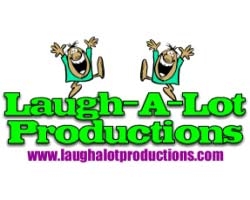 Pleasanton, CA, January 11, 2007 --(
PR.com
)-- John DeKoven, Chief Executive Comic of Laugh-A-Lot Productions, today announced the debut of "Killer Laughs Comedy Competition." This event will take place at Tommy T's Comedy and Steakhouse in Pleasanton, CA. Killer Laughs is a ten round competition that will start January 30, 2007. The finals will be on April 24, 2007.
The number of spots available in this competition was limited to sixty comedians. There were over 100 applications received so the field had to be cut which was done by a selection committee. "The Bay Area has a burgeoning comedy scene," said DeKoven. "It wasn't easy for us to decide who to cut out of the competition."
The voting for the competition is done by the audience at the show. Each audience member will be required to vote for four comics and rank them one through four. Any voting card which has less then or more then four votes is disqualified. While the voting cards are being collected and counted the audience will be entertained by a special guest comedian.
There will be six preliminary rounds with ten comics in each round. The top four comics in each preliminary round will advance to the semi-finals. The semi-finals will consist of three rounds with eight comics in each round. The top three comics in each semi-final round will advance to the final round. The final round will consist of nine comics with cash prizes being awarded for first, second and third place. In addition to this the first place winner will get a week of paid work at Tommy T's and be awarded the title of "Killer Comedian."
The full schedule of the competition as well the results of each round can be found at the Killer Laughs website which is www.killerlaughscompetition.com.
About Laugh-A-Lot Productions
Laugh-A-Lot Productions is a Bay Area comedy production and events planning company based in Pleasanton, CA. Founded by John DeKoven, the company plans and produces comedy shows for corporations, restaurants, hotels and private events throughout the Bay Area. For more information call (925) 264-4413 or go to www.laughalotproductions.com
###