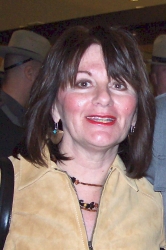 Ogdensburg, NY, October 06, 2010 --(
PR.com
)-- The Maggie O'Shea Company-the children's concept company representing the funtime storylines and whimsical artwork of author/illustrator Barbara Briggs Ward announces the release of Ms. Ward's first work of fiction geared to adults. Available on Amazon and Barnes & Noble, "The Reindeer Keeper" is a Christmas story tapping back into that feeling of truly believing in Santa Claus.
"It's a story about a couple many can relate to and the rekindling of belief rooted in childhood. It's who delivers this gift on Christmas Eve that affords this couple the strength necessary to face their greatest challenge," explains Ms. Ward adding,"Those who have read the book tell me it is written for the Hallmark Channel."
Award-winning graphic designer/illustrator Suzanne Langelier-Lebeda was contracted for cover and inside illustratons of this 172-page soft-cover book.
More information can be found at www.thereindeerkeeper.com
###