Green Glue for High Performance Soundproofing
Acoustical Solutions has introduced a new generation of sound isolating material known as Green Glue. Green Glue is a Visco-Elastic sound damping compound. Visco-Elastic materials damp vibration, minimizing the transference of sound vibration from one side of a partition to the other.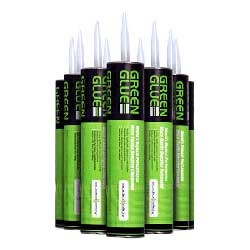 Richmond, VA, January 16, 2007 --(
PR.com
)-- Sound damping is a very straightforward concept. Simply put, sound damping is the rate at which something dissipates energy. The higher the damping rate, the higher the rate of energy dissipation.
These Visco-Elastic materials are most commonly used in a constrained layer damping system, sometimes referred to as CLD. Simply put, the Visco-Elastic materials are "sandwiched" in between two sheets of drywall, plywood and subflooring. When the resulting sandwich is vibrated, the sandwich is bent, causing shear forces to pull and stretch on the VE damping material. This allows the damping materials to dissipate energy. In sound isolation applications, damping has one broad effect - it works to eliminate stored energy.
So what does all of this work when soundproofing a wall or ceiling? Sound vibration can pass through a wall either through the rigid connections of the drywall to the stud, or by vibrating the air cavity between the studs (even when insulated). Green Glue significantly reduces drywall vibration, and therefore reduces the amount of energy transmitted through the insulated air cavity. This is particularly noteworthy in the problematic low frequencies that are normally so hard to block.
In the common wood stud wall, the use of Green Glue also causes far less energy to transfer to the other side via the rigid mechanical connection provided by the studs. In decoupled walls, such as staggered stud walls, the use of Green Glue means the connections at the top and bottom aren't nearly as detrimental to performance.
Green Glue is a simple solution to help remedy so many real-world conditions. For retrofit installations, nothing could be simpler that applying a layer of Green Glue and another sheet of drywall to a problem surface. Use Green Glue in floors to significantly reduce the sound and footfall noise from transmitting below.
Green Glue works extremely well in conjunction with common building materials as well as other specialized acoustical materials such as mass loaded vinyl, sound isolation clips, acoustic sealants and insulations.
For more information on Green Glue, please contact Acoustical Solutions at 1-800-782-5742 or visit them at http://www.acousticalsolutions.com
###
Contact
Acoustical Solutions, Inc.
David Ingersoll
800-782-5742
www.acousticalsolutions.com

Contact