Now Grow Retail Spa Revenue with mySpaShop Sales Affiliate Rewards in Home Spa Products and Wellness Gifts
Announcing a new Retail Sales Affiliate program to grow revenue in this economic crisis, join the retail sales affiliate program at mySpaShop, no investment to earn commissions, also benefit from their online sales promotion strategies. Redeem SpaFinder and SpaWish gift certificates at mySpaShop.
New York, NY, November 06, 2010 --(
PR.com
)-- Announcing a new Retail Sales Affiliate program to grow revenue in this economic crisis. Improve your reach and profitability via retail, e-commerce and internet strategy through a free membership in the mySpaShop Affiliate Program, a uniquely connected community.
Join them in linking consumers to their global collection of health, wellness and beauty products. mySpaShop (mSS), founded by Kim Matheson Shedrick, started as an extension of the renowned firm Natural Resources Spa Consulting, Inc. (NRi). The vision for mSS was to create an ecommerce marketplace &c ommunity that focuses on well-being, with a market objective of providing a platform to showcase distinctive spa and wellness products.
Their initiative will bring the spa experience to the mobile and time-limited consumer, using experiential content, DIY (do-it-yourself) recipes, industry expertise, commerce and community.
As a charter Affiliate, you will also benefit from our Retail Online Marketing Services, featuring social media and SEO campaign, videos, blogs, newsletters, relevant articles, photos and more to keep your web presence fresh and appealing. The connectivity to and from your website will be considerable, allowing you to articulate your viewpoint and expertise, as well as form relationships with customers, prospects, employees, business partners and friends.
The process of joining is quick and simple: contact mSS affiliate@mySpaShop.com to get started. They will help you place mSS affiliate banners on your Spa's website, integrating the mSS community into your website without your customers ever leaving it. In addition to extending your reach, your company receives commissions on retail as well as revenue on everyone that clicks through.
Redeem SpaFinder and SpaWish gift certificates at mySpaShop.Find affordable and accessible ways to treat that special someone to a unique home spa experience now that SpaFinder offers consumers the ability to redeem SpaFinder and Salon Wish gift certificates at mySpaShop.com(mSS). The
home spa products
boutique provides recipes on how to bring spa home to everyone, anytime with over 2,000 distinctive products sourced by spa advisors from global artisans.
Not everyone has the budget, time or accessibility to enjoy a spa visit, yet they do want to enjoy the healthy benefits of the spa lifestyle. Kimberley Matheson Shedrick, founder of mSS says "With the economic downturn clients are looking for more affordable and accessible do-it-yourself (DIY) wellness and spa experiences at home for those in-between spa visit treatments."
Within mSS's home spa treatments visitors will find multiple guides for providing unique spa experiences at home. Select from soothing massage oils that include massage techniques and hints that will transform the home to a luxury spa. Enjoy a day at the beach, while safely protecting the skin and hair from unhealthy sun and other elements. If it is going to be a solo night, mSS has suggestions on how to pamper consumers for the evening starting with a perfect bath in their how to spa blog. There are numerous products and recipes for improving consumers lifestyle with home fitness and stress reduction techniques. mSS is an online marketplace for thousands of
spa products
including hard to find products that are usually only available at global spas. There is also an Artisans Gallery featuring art, sculpture and crafts.
###
Contact
mySpaShop.com-Home Spa Products Boutique
Kim Matheson Shedrick
877-697-7274
www.myspashop.com

Contact
Multimedia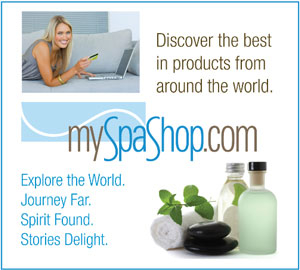 Practice spa treatments at home for in-between spa visits. Redeem SpaFinder and SpaWish gift certificates at spa products boutique