The ERP Software Site Now Online at www.theERPSoftwareSite.com
New Website Features Enterprise Resource Planning (ERP) Articles, News, Resources and Information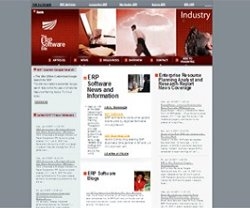 Blacksburg, VA, January 16, 2007 --(
PR.com
)-- Scott Technology Group, Inc., today announced the availability of The ERP Software Site (www.theERPSoftwareSite.com), its newest online media website. The site provides a wide range of information enabling enterprise resource planning (ERP) professionals to keep up with all the latest developments in the ERP field.
The up-to-the-minute information now available on the site includes:
• Articles, White Papers and Research Reports
The latest articles on enterprise resource planning subjects from popular journals and magazines, original articles from experts in the ERP field, and links to related white papers and analyst research reports.
• News, Press Releases and Blog Highlights
Current ERP news items, press releases, Blog postings, career opportunity announcements and more from around the world.
• Resource Links and Custom Google Search
Links to many additional ERP resources are included on the site, and a unique Custom Google Search feature that prioritizes internet searches across the leading enterprise resource planning websites is also available.
User Submissions
The ERP Software Site invites submissions from service providers and industry experts in the field. Submissions of articles, white papers, case studies, success stories, etc., that provide information, insights, observations or opinions that would be of general interest to the enterprise resource planning community are welcomed. Full name, company and website attribution is included with all submissions accepted for publication on The ERP Software Site.
For more information about The ERP Software Site, please visit: www.TheERPSoftwareSite.com
About Scott Technology Group
Scott Technology Group (STG, www.scotttechgroup.com) is a leading business-technology information and services company. STG's online media include websites that provide up-to-the-minute news, information, articles and resources for business professionals in selected fields and industries. For more information about STG, please visit their website.
###
Contact
Scott Technology Group, Inc.
Daryl Scott
(540) 953-3360
www.scotttechgroup.com
To contact The ERP Software Site, visit www.theERPSoftwareSite.com

Contact