Century City Cell Phone Fest Announces GoTV Networks as Exclusive Mobile TV Network Sponsor
Cutting-edge cell phone fest announces partnership with GoTV Networks; Seeks aspiring filmmakers with stories to tell.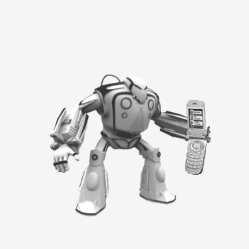 Century City, CA, January 16, 2007 --(
PR.com
)-- The Century City Cell Phone Fest today announced GoTV Networks, the first made-for-mobile television network and studio group, as its exclusive mobile television sponsor. As part of the agreement, GoTV will screen the contest's Top 30 films on its signature GoTV Superchannel for a period of 60 days.
The Century City Cell Phone Fest is aimed at encouraging the production of short films designed specifically to be played on cell phones, or made by cell phones. Submissions can be anywhere from 15 seconds to three minutes. The contest final deadline is August 15, 2007 with the grand prize winner receiving a trip to the Sundance Film Festival in 2008.
"This event is a great way to educate young filmmakers on the intricacies of producing for this important entertainment medium, and we are excited to be a part of it," said Daniel Tibbets, Vice President, GoTV Studios. "As mobile television continues to flourish, this contest will provide burgeoning filmmakers exposure to alternative delivery platforms and a mobile-savvy audience."
"We are one of the first cell phone festivals in the USA and see this as a way to broaden the opportunities for filmmakers while bringing independent cinema to the average cell phone user," said its Director/Founder Patrice Williams.
Other major sponsors of the Century City Festival series include Google Video and Fuji Film. For more information about the Century City Phone Fest, please visit www.centurycitycellphonefest.com.
About The Century City Cell Phone Fest
The Century City Phone Fest was founded by Patrice Williams, the CEO/Founder of the Minorities in Broadcasting Training Program; a non-profit 501(c)3 organization formed in 1992 to provide training opportunities to minority college graduates in television and radio news reporting, news management and film production.
About GoTV Networks
GoTV Networks (www.4gotv.com) is the first made-for-mobile television network and studio group. The company produces the mobile television industry's widest range of original programming for on-demand delivery direct to mobile phones via a family of subscription-based channels. GoTV Networks provides news, sports, music, entertainment, and other essential content customized specifically for mobile users. The GoTV Networks team of Emmy Award-winning producers, experienced studio executives, and mobile technology innovators creates constantly updated programming optimized for both low - bandwidth and 3G handsets, as well as other mobile devices. GoTV Networks also collaborates with traditional media companies, including ABC News, ABC Entertainment, Univision, and Sony BMG Entertainment. GoTV Networks programming is available on the Cingular, Verizon Wireless, Sprint Nextel, and Boost Mobile wireless networks.
###
Contact
Century City Cell Phone Fest
P. Williams
323-571-0766
www.CenturyCityCellPhoneFest.com

Contact