Amber Alert Issued for San Antonio Infant (Isaiah Nathaniel Ramirez)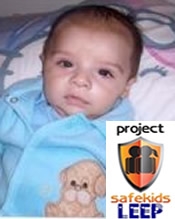 Springfield, IL, January 16, 2007 --(
PR.com
)-- The F.B.I. (Houston) office has issued an Amber Alert for Isaiah Nathaniel Ramirez. The child was given to (2) unknown females by the biological mother at a truck stop around San Antonio. Isaiah Ramirez was last seen at approximately 6:00 p.m. on January 13, 2007 near their home in San Antonio, Texas.
During the early morning hours of January 14, 2007, Veronica returned home, under the influence of drugs, without Isaiah. Veronica advised San Antonio Police Department (SAPD) investigators that she may have given Isaiah to two unidentified females in a truck stop (unknown name/location) restroom somewhere between San Antonio and Houston, Texas.
Veronica may have been operating a Maroon 2005 Nissan Maxima while traveling between San Antonio and Houston. Veronica advised SAPD investigators that she believes Isaiah may be sick. Isaiah has an underdeveloped esophagus and requires special formula.
Isaiah Nathaniel Ramirez's DOB is 11/13/2006, Height: 22 inches Weight: 12 lbs, Grey Eyes and Brown hair. Anyone with information regarding Isaiah Ramirez is urged to immediately contact the Federal Bureau of Investigation at (713) 693-5000.
Please visit http://www.projectsafekids.org for more details
###
Contact
Project Safekids
Scott Woods
217-391-4742
http://www.projectsafekids.org

Contact