Recording Artist-Physicist in Chicago's Field of Electronic/Dance Music, Labo_Labs [Cristian Huepe], Releases Blue Line through Loud Dust Recordings
Blue Line disc is now available for participants of the Labo_Labs [Cristian Huepe] music experience.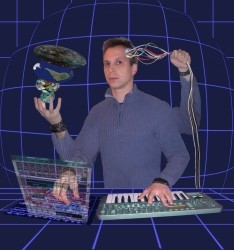 Burlington, VT, February 12, 2007 --(
PR.com
)-- Labo_Labs, Cristian Huepe's name signature for parallel creative and development projects in electronic music and theoretical physics, has released the disc Blue Line through Loud Dust Recordings. Spending half of his time carrying out research in nonlinear science, statistical physics, and complexity, supported by a grant from the National Science Foundation; and half of his time developing his various music projects, including the Labo Labs live-electronic-music-show frequently seen at the Metro and Hothouse in Chicago; Cristian Huepe has put forth his latest Labo_Labs creation which is pointful and organic, and absent of formulistic sounds or the sounds of pre-programmed trends, presets and gadgets. In Chicago Cristian Huepe has been collaborating for over two years with hip-hop artist/producer Brother El as the "Makers of Sense". He has also interacted with various Chicago bands, remixing Kristin Shout's "Bruiseless" and recording loops for L'Altra's "In the Afternoon" album as well Metamann/Labo_Labs collaborations. Labo_Labs [Cristian Huepe] has signed with label Loud Dust Recordings for distribution and support of the latest high quality innovation in electronic/dance music titled Blue Line.
Cristian Huepe grew up in where he led, as singer and bass player, the Chilean Jazz-Punk band Malavida (selected for the compilation CD "Con el Corazón Aquí II" as one of best emerging Chilean bands). From 1997 to 2000 he embarked on his still continuing integration of science and music while living in Paris by obtaining his PhD in physics and releasing his first full LP album: "Eclectise". Cristian performed regularly in Paris at lounges, clubs and other venues. He also scored an experimental video by dancer/trapezist Sandrine Rouxel [for the Art and Body exhibit in Milan], and produced an original track for the magazine 9/9 - Practical Art Review, featured in the Pro-Zak exhibit at the Modern Art Museum of Paris.
Blue Line captures the integral element of Labo_Labs, the live electronic performance experience. The Labo_Labs-electronic-music-show is a live-PA electronic music performance and is presented for two hours in an uninterrupted organic, energetic and dance-friendly show. Ranging from the raw acoustic to the purely synthesized, Cristian uses a laptop [with virtual instruments] and machines [keyboard, controllers, rhythm synths, modules, drum machine, mixing console, sequencer, effects, etc.], but no pre-recorded music and almost no samples. He controls new and pre-developed structures in real-time. The visual focal point of the Labo_Labs-electronic-music-show is a virtual equipment rack, which is retro-projected onto a large touch-sensitive semi-transparent screen. This allows Cristian to generate a non-aseptic electronic music performance by including elements of improvisation, risk, and challenge. Labo_Labs also generates sections of this dynamic electronic performance through knob-twisting, live re-cabling, plugging and unplugging connectors, and manipulating faders, buttons and keys. Because a scientific background allows Cristian Huepe to manipulate electronic tools intuitively and organically, he often uses them for their flexibility in generating new sonic objects and the tools used in the music of Labo_Labs are diverse. The Labo_Labs performance of the "live-electronic-music-show" [live-PA] has occurred on various stages and the new album, Blue Line - released by Loud Dust Recordings, will be continually presented during 2007 utilizing this unique live performance format. For more information on Labo_Labs [Cristian Huepe] visit Loud Dust Recordings or hear and buy his music at CD Baby, iTunes and EMUSIC.
###
Contact
Loud Dust Recordings
P. Shea
802-249-2081
http://www.louddust.com
PO Box 8521
Burlington, VT 05402

Contact