The Best in Philly Hip Hop – Nex Millen/Retrospective Releases "Hard to Kill"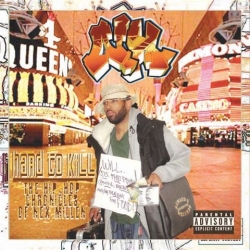 Philadelphia, PA, January 18, 2007 --(
PR.com
)-- Respect The Culture, LLC, a Philadelphia-based record label and multi-media company, has released Nex Millen/Retrospective's latest solo release, "Hard To Kill – The Hip Hop Chronicles of Nex Millen." The new CD features Nex Millen/Retrospective with guest appearances by several Philadelphia hip hop stars, including Cee Knowledge of Digable Planets.
"Hard To Kill chronicles Nex Millen's evolution as an independent hip hop artist, and really showcases his versatility in rhyme styles and production," said the album's Executive Producer, Marci Krufka. "Nex Millen is the true hip hop renaissance man and a shining example of the best in Philly hip hop."
Guest appearances include Cee Knowledge (Digable Planets), Dave Ghetto and other artists from Breakbread Projects with beats by Millen, Fel Sweetenburg, Karimbeats and Spanish hip hop phenom Quiroga.
Nex Millen/Retrospective is a Philadelphia-born artist, producer and DJ. He is a co-founder of Camden, New Jersey-based Breakbread Projects and a member the critically-acclaimed group Nuthouse. Millen has performed across the United States and throughout Europe and was the Music Coordinator for the Digable Planets 2005 Reunion Tour UK. Formerly an engineer with Sony Studios (New York) and Sigma Sound Studios (Philadelphia), he has released several recordings as an artist with former groups, produced numerous singles, albums and mix tapes for other artists and was the Music Supervisor for the very successful And1 B-ball mix tapes.
Respect the Culture LLC is a Philadelphia-based record label and multimedia company – globalizing hip hop culture through music, fashion and art. Look for other 2007 releases including Poesh Wonder's debut solo release, hot new mixes from The League of Extraordinary DJs as well as Culture Clothes featuring Chakra Shirts and Promo Tees (coming soon!).
"Hard To Kill" is available for purchase at local retail outlets and at www.respecttheculture.com.
For a promotional copy of the CD (press only) or for more information contact Marci Krufka at Respect the Culture at 610-550-9705 or marci@respecttheculture.com.
###
Contact
Respect the Culture, LLC
Marci Krufka
610-550-9705
www.respecttheculture.com

Contact