Dre Bowie: From Virtual Obscurity to Virtual Reality
Dre Bowie co-stars opposite Xzibit in Activision's Pimp My Ride video game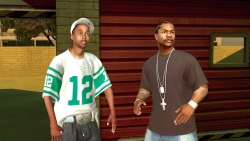 Los Angeles, CA, January 19, 2007 --(
PR.com
)-- Contrary to popular belief, shooting stars not only grace the sky, they cross the silver screen. And if you've ever been lucky enough to see one, you know it's quite a sight to behold. Feast your eyes on one such shooting star in Dre Bowie. But be careful, because this shooting star is destined to become a super nova, and his presence just might blind you.
After one audition with renowned director Richard LaGravenese, the up and coming thespian was cast as one of the troubled youth in the blockbuster hit "Freedom Writers" starring Oscar winner Hilary Swank. Though his on screen appearances were brief, Dre was so impressive, that when he received a call from Paul Jobbling, casting director for Activision, he thought he was being Punked, but this was no joke. Jobbling wanted to cast Dre alongside acclaimed rapper/actor Xzibit in the new virtual reality video game "Pimp My Ride."
In the video game, a direct take from the hit MTV series of the same name, Dre's entire likeness was used to portray fictional character Jason Butler. To become Butler, Bowie found himself thrust into the world of make believe, where still photos and digital animation made this multi-dimensional actor into a three-dimensional entity.
"Pimp My Ride," released this past Christmas on PSP, Playstation and Xbox, has met with rave reviews from Amazon.com, GameSpot and Controller.
Dre is excited about this appearance in the video game and is hard at work on his next project "Juvies," an MTV series. Because after all, Dre has game… literally!
Dre is available for interviews.
###
Contact
GEM Public Relations
Rhonda Hyman
(888) 575-1241 X 305
www.drebowie.com
Dre is available for interviews.

Contact