Meltzer Joins Forces with Combat Fight League
It was only a matter of time that David K. Meltzer would find a home in the world of Mixed Martial Arts.
Oxnard, CA, November 09, 2010 --(
PR.com
)-- With offers from multiple MMA promotion companies, it was Combat Fight Leagues' relationship with the fighters, their love of the sport of Mixed Martial Arts and the team's work ethic that won Meltzer over.
With over 20 years in the Jewelry Sales and Design industry (currently the owner of Anna Kent Jewelry), Meltzer took lead roll to help his friend launch Polanti Watches. With his marketing prowess, Meltzer began building a large celebrity clientele but didn't stop there. His clientele began overlapping into boxing. And now Meltzer has brought Polanti Watches to the forefront of MMA. The Polanti brand has been seen from new promotion companies such as CFL all the way up to Strikeforce and ultimately to the UFC.
Building valuable relationships, product placement and exposure are Meltzer's keys to success. And he plans on using the same strategy with the Combat Fight League. Anxious to utilize his resources, Meltzer is excited to focus his energy into one promotion he can call his own.
"We are excited to have David on our team as a part owner. I've personally worked with him for about 2 years now and when the opportunity to have him join CFL presented itself, we knew we couldn't sleep on it," said Julius Mojica, one of the owners of CFL. Mojica added, "He (Meltzer) brings so much to the team. He isn't just a businessman, he's a visionary. He's been looking at the future of the CFL and our potential for growth in the industry before he even joined the team which consists of myself, Brian Espinoza, Alexandra Lemus and Don Ebuen."
The Combat Fight League will be presenting Havoc at the Hyatt 1 on December 2, 2010 at the Hyatt Westlake Plaza in Westlake Village, CA.Tickets are available online at www.combatfightleague.com or at West Coast Jiu Jitsu 2945 Los Olivos Oxnard, CA 93036.
For more information on Combat Fight League, please go to www.combatfightleague.com
###
Contact
Combat Fight League
Julius Mojica
8057553765
www.combatfightleague.com
www.dojoworld.ning.com
www.dojofightgear.com
www.westcoastjiujitsu.com
www.polantiusa.com

Contact
Multimedia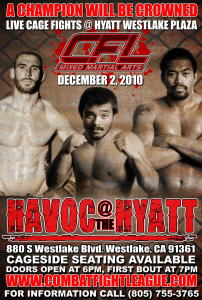 Combat Fight League presents Havoc at the Hyatt 1 at the Hyatt Westlake Plaza in Westlake, CA. For more information go to www.combatfightleague.com