Hot Moon Collection Launched Targeting Boomer Females
New Site for Women 40+ by Women 40+ Addresses Distinct Shopping Needs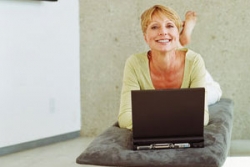 Topanga, CA, January 21, 2007 --(
PR.com
)-- Hot Moon Collection, a new online store for women over 40 has launched with a new perspective by offering women over 40 a chance to stay in step with fashion. With the busy world of today, demanding schedules and hectic lifestyles, a woman over 40 often feels left out of the market and now, finally, she can assume a place in the web world, hotmooncollection.com.
"We understand women over 40 are often overlooked in the fashion world. By offering a place of their own, and a collection of their own, and with a simple approach, we can help remove the added stress out of shopping." said Gaby Ruvolo, owner partner, Hot Moon Collection. Longtime friends, Gaby Ruvolo and Jan Moya have launched an online store to present a collection of current wearable solutions and selections for the whole-living environment. Coming from a retail background and having reached that certain age, Gaby and Jan understand the need for a store directed at and for the woman over 40.
"We wanted a store that was hip and elegant that drew something from a calm, inviting and uncluttered space speaking to women about themselves and helping them to navigate through this new transition in life." said Gaby Ruvolo.
Offered are women fashion designers and products from companies owned by women, most of all, with women over 40 in mind. A visually pleasing home page features special items from the Elm Design Team, sophisticated designs from three women of Iceland to Trilogy, a natural skincare line started by two sisters from New Zealand, and the exclusive Hot Moon Necklace, honoring friendships and helping support The Breast Cancer Research Foundation through donation.
All are organized by category with easy to navigate shopping.
Hot Moon also offers 'take-note' accessories, along with a selection of books, music, gifts and home products, adding inspirational thoughts and quotes along the way. "Life is a daily opportunity ... let's make it a beautiful reflection of our true inner self" said Jan Moya, owner partner, Hot Moon Collection.
Shopping available 24 hours a day, 7 days a week.
###
Contact
Hot Moon Collection
Gabrielle Ruvolo
310-455-0987
www.hotmooncollection.com

Contact