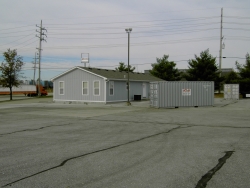 O'Fallon, MO, November 13, 2010 --(
PR.com
)-- American Trailer & Storage, Inc. (doing business as AT&S), a portable storage and transportation equipment sales and rental company, announced that they have opened a location in O'Fallon, Missouri. This new location opening marks an expanded presence in the Saint Louis metropolitan market.
AT&S' team in St. Louis will continue to provide a wide range of storage containers and semi-trailers to businesses and other entities throughout Missouri and Illinois.
"Our new location in O'Fallon provides very convenient access to our customers in Saint Louis and is strategically located in an area where we predict future business growth," stated Rick Honan, President of AT&S. The new office and storage lot is located at Highway 79 and Interstate 70.
"Our team's integrity and professionalism, combined with years of experience in portable storage and semi-trailer sales and service, allows us to provide superior customer service and quality equipment."
AT&S invested thousands of dollars renovating the property in O'Fallon and is bringing three new full time jobs to the city.
"We're looking forward to partnering with our community and giving back – which is very important to us," said Vice President of Sales Dale Martens.
Follow AT&S on Facebook, Twitter and online at www.ATandSonline.com.
About AT&S
American Trailer & Storage, Inc. (AT&S) works with businesses of all sizes to provide storage, cartage and over the road semi-trailers and storage containers/conex boxes and other portable storage related services and solutions. AT&S is committed to offering superior results and services. For more information about AT&S log on to www.ATandSonline.com or call (816) 765-7771.
###