Chassis Plans Introduces the ATXP-945G Long Life Industrial Motherboard with Intel Duo-Core Technology
Chassis Plans releases a state of the art dual core ATX industrial motherboard designed with components on the Intel Embedded Roadmap. The guaranteed five to eight year production life cycle of the PCI Express ATXP-945G solves the problem manufacturers face with COTS motherboards going end of life every six months.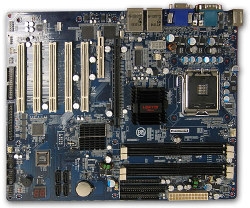 San Diego, CA, January 24, 2007 --(
PR.com
)-- Chassis Plans today announced the release of the ATXP-945G Long Life Industrial Motherboard with dual-core processor technology and PCI Express. Powered by the Intel® Pentium® D processor and the Intel® 945G Express chipset, the ATXP-945G was designed specifically for performance intensive industrial applications such as Medical Devices, Security Systems, Imaging, Industrial Automation, and Manufacturing.
Dual-core processing is the latest innovation in microprocessor technology. With two execution cores packaged into one processor, dual-core processing allows for simultaneous computing, delivering higher throughput.
PCI Express is the new I/O interconnect bus standard capable of high bandwidth transfers up to 4 GB/s. The featured PCI Express x16 dedicated graphics slot supports the latest high-performance graphics cards, delivering over 3.5 times traditional AGP 8X. This feature is ideal for graphic intensive embedded computing applications. The featured PCI Express x4 is capable of transferring 2 GB/s, up to 3.5 times faster than standard PCI architecture.
The ATXP-945G supports four (4) Serial ATA connectors (150MB/s) for high-speed hard disk drives, eight (8) USB 2.0 ports, one (1) or two (2) PCI Express-based 10/100/1000 ethernet ports, Intel® High Definition Audio, and onboard Intel® Graphics Media Accelerator.
Standard features include one (1) x4 and one (1) x16 PCI-Express slots, five (5) 32-bit PCI slots for legacy devices, two (2) PATA/100 EIDE connectors, two (2) RS232 serial ports (factory configurable to RS422/RS485), one (1) parallel port, one (1) PS/2 mouse/keyboard connector and a floppy controller. The board size is standard ATX 9.6 x 12 inches.
"The ATXP-945G with a guaranteed five to eight year production life solves the biggest problem my customers face which is motherboard obsolescence," said Jack Davis, Vice President of Sales. "The cost of testing and documentation changes required by traditional off the shelf motherboards going end of life every six months far exceeds the cost of the motherboard itself."
The ATXP-945G continues Chassis Plans' commitment to providing forward path long-life solutions and materials management. Like all Chassis Plans Long Life Industrial Motherboard products, the ATXP-945G carries a written five (5) to eight (8) year product availability guarantee. This reduces the costs associated with product redesigns and recertifications that are triggered by obsolescence, a common occurrence when using commercial-grade motherboards.
Pricing and Availability
The ATXP-945G is currently shipping. Contact Chassis Plans for latest pricing and processor speed availability.
Volume and OEM purchase programs are available.
About Chassis Plans
Chassis Plans is a specialized designer and manufacturer of award-winning long life industrial motherboards, single board computers and backplanes, industrial rackmount chassis and displays for critical applied industrial and embedded applications such as telephony, imaging, instrumentation, control and other environments which require performance, precision and reliability.
Chassis Plans offers an extensive line of industrial motherboards, PCI-X/PCI/ISA single board computers and backplanes manufactured in the USA to ISO 9001:2000, CE and UL standards, satisfying the industry's increasing demands for features and performance. All Chassis Plans products are backed by a full two-year warranty and Chassis Plans' engineer oriented technical support.
For more information about the ATXP-945G, or any other Chassis Plans motherboard, SBC or backplane product, call (858) 571-4330. You can also visit their website at www.chassis-plans.com or e-mail them at saleseng@chassisplans.com.
###
Contact
Chassis Plans
David Lippincott
858-571-4330
http://www.chassis-plans.com

Contact