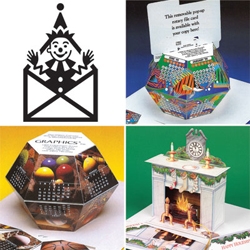 Jupiter, FL, November 20, 2010 --(
PR.com
)-- In 1975, just as TFI Envision, Inc. opened its doors, a new client "popped in" — Graphics 3, Inc. They were also a new company, started in 1974, with unique
3-dimensional rubber band activated calendars that instantly 'pop-up' when pulled out of their flat envelope. The idea was to sell these to businesses as promotional calendars with custom imprint of the business's information on the top and bottom.
Since that time, TFI Envision, Inc. has worked together with Graphics 3 to design over 50 different polygon pop-up calendars, 35 years of catalogs, their "pop-up clown in an envelope" logo and other promotional materials.
In addition, Graphics 3 works with an amazing structural designer, Lowell Hess, in developing incredibly complex but elegantly executed pop-up cards for holiday and all occasion. TFI Envision has developed the graphics on at least a dozen of these unique rubber band activated pop-up cards (a Woodie Station Wagon Pop-Up, Golfers Pop-Up, Trellis Pop-Up, Holiday Fireplace Pop-Up, to name a few). Graphics 3, Inc. is considered the premier dimensional card company.
"We look forward to the challenges each year of coming up with new ideas for calendars that are colorful, easy to read and have a broad appeal. The pop-up cards are so unique and a delight to watch how they pop up instantly from their envelope," said Elizabeth P. Ball, President, Creative Director of TFI Envision, Inc.
###