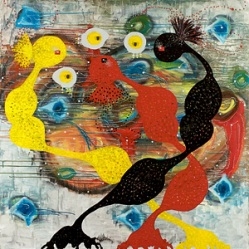 Brooklyn, NY, November 27, 2010 --(
PR.com
)-- Margaret Withers laid the foundation for her art during a largely unsupervised childhood in which she distanced herself from actuality by envisioning her own small world as a theater and casting herself as both playwright and lead actor in countless fictions. In her current paintings she employs materials--resin, pigment, oil paint, string, ink, paper, and clay--in order to manifest forms at once familiar and unrecognizable, visual fictions, compositions on the stage of her canvases full of life and movement. When a viewer encounters her figures, or "guys," as Withers calls them, the initial impulse is to decode or interpret, which is Withers' knock at the door, her invitation to come out and play.
In the painting "Thesis and Antithesis dripped dots of blackberry jam on the smock of crying Synthesis," her "guys" intertwined in exuberant unselfconscious postures engage on the levels of imagination and play, narrative and movement. Three small clay heads attached to the canvas oversee the mystery, inviting the viewer to follow the dots and swirls and plunge into this complex and colorful world. In "many guys loosely thinking of floating thoughts," her "guys" are queued up like dancers, energized and anticipating their entrance. Withers has generated a distinct vocabulary by which she propels her narratives and proffers a challenge either to discover the story or pretend a new one.
Withers' sculptures are representations of her "guys" in three-dimensional space, their abstraction compounded by her choice of materials--street sweeper bristles, wire, painted vellum, wood, clay, and string. Moving among these sculptures evokes a feeling of wandering the woods at dusk when position and light interact in the still quietude to skew perception. There is no seediness, no sinister intent in Withers' paintings and sculptures. Instead they serve as a reminder that artistic expression is expansive and inclusive, and there is more than enough room for wonderment and playfulness.
Withers' was born in Austin, Texas and currently lives and works in Brooklyn, NY. She has shown locally and internationally and was recently selected to appear in the New American Paintings Northeastern edition #92.
amoseno. org - 111 Front St. Suite 202; Dumbo, NYC
###