The Best Organic Optimization Firms in the Industry Ranked by topseos.com for the Month of February 2007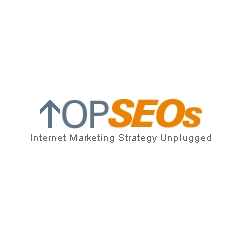 Plymouth, IN, February 01, 2007 --(
PR.com
)-- When topseos.com began in 2002, its objectives were clear. With the tremendous growth that it saw, the search engine marketing industry needed a way in which it could asses its growth. And it needed a platform where the results of such an assessment would be showcased. topseos.com began its ranking of firms on a monthly basis in eleven different categories. Organic Optimization, a field of growing importance in the arena of internet marketing, was one amongst these eleven.
Organic Optimization can be defined as a process of fine-tuning websites vis-à-vis the needs of search engines, and therefore the target users. Site owners, using the Organic Optimization methodology ensure visibility, to attract target users to their sites.
A greater understanding of Organic Optimization will tell you that web designing, content creation and the creation of attractive and user-friendly navigation systems is just the first step. Organic Optimization makes sure that all this effort reaps the benefits one is looking for.
This list is combines extensive industry-wide based a thorough understanding of various internet marketing methods such as Organic Optimization. And indeed, the February 2007 list of topmost Organic Optimization list will save the hard work and research involved in finding the best service provider.
Here's the list of the top 30 Organic Optimization firms that are selected for February 2007:
SEO Image, Inc. – New York
Bruce Clay, Inc. – California
Intrapromote LLC – Ohio
Search Engine Optimization Inc. – California
Telic Media – California
Customer Magnetism – Virginia
WebMama.com Inc. – California
USWeb.com - California
iProspect – Massachusetts
Kinetic Results – Texas
Web Targeted – Utah
icrossing – New York
TopRank Online Marketing – Minnesota
Submit Express – California
Neutralize –
Arte Works Business Class – Texas
High Position Limited –
1st on the List Promotion Inc. –
Prominent Placement, Inc. – Georgia
UnREAL Marketing, Inc. – Pennsylvania
eTrafficJams.com – Florida
Prime Visibility – New York
First Page SEO –
Inteliture.com - Utah
Alchemist Media, Inc. – California
Reprise Media – New York
Blizzard Internet Marketing, Inc. – Colorado
Search Mar, Inc. – California
Alpine Search Engine Optimization - Colorado
360i LLC – New York
The accuracy of the ranking above is verified by the rigorous selection process that is employed before naming the candidates. Selection of the candidates is based on the following criterions:
Competitive advantage
Title optimization
Keyword research
Copywriting
Superior services and pricing
Link development
Response to client problems
Innovations that set it apart from the competition
Usability and overall efficiency
A staff with technical and marketing skills
Overall performance
Firms that specialize in Organic Optimization and wish to be considered for the topseos.com rankings can complete an application by registering as a service vendor and applying for rankings at:
http://www.topseos.com/option,com_register/task,providerRegister/
Want to research and evaluate Internet marketing firms?
Visit them at
www.topseos.com
###
Contact
topseos.com
Bill Peden
866-237-8704
www.topseos.com

Contact