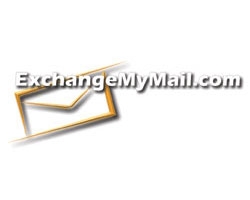 Albertson, NY, February 02, 2007 --(
PR.com
)-- Exchange My Mail Inc. announced that as of today all new and existing customers will be offered a free copy of Outlook 2007. Staying true to their commitment of always being on the cutting edge, Exchange My Mail is now including a free copy of Outlook 2007. Downloadable from the customers Control Panel, or a hardcopy by mail for an additional fee.
Outlook 2007 offers advantages over older versions such as:
- Shared calendars and PIM data are now cached for offline access.
- Connection sharing will decrease the number of open connections to the server.
- Scenarios that in the past had caused failure with synchronization are now managed so synchronization can carry on.
- Outlook Mobile Service can create and send text messages as well as multimedia messages to a mobile device from within Outlook in a manner comparable to e-mail messages. After the message is sent, you can see it in the sent items folder in your inbox.
ExchangeMyMail.com offers a wide variety of Exchange
hosting plans
from the single user up through substantial mid-sized companies starting as low as $9.99 per month. With no initial investment and no contracts, it is hard to imagine a better deal!
By focusing on e-mail specific services, ExchangeMyMail.com provides clients with access to unparalleled expertise and the latest Microsoft technology to help improve efficiencies without incurring additional administrative burden. With near 100 percent up-time and a variety of customized hosting plans, the solutions integrate seamlessly with other e-mail services, including Global Relay's comprehensive suite of e-mail archiving and compliance solutions.
All solutions are backed by an expert technical support team with in-depth knowledge of Microsoft Exchange, available through multiple convenient touch-points. Helping to deliver reliability, stability and efficiency into everyday operations, ExchangeMyMail.com allows organizations of all sizes to focus on their business rather then supporting e-mail applications. You can find out more about them by visiting their website
www.exchangemymail.com
or giving them a call at 1-888-608-MAIL.
About ExchangeMyMail.com
As a full service provider of Microsoft Exchange e-mail hosting services, ExchangeMyMail.com provides custom yet flexible solutions designed for any size business, from the single user to large scale operations.
For More Information: (Media and Industry Analysts Only Please)
###