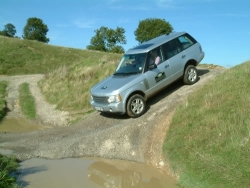 Canterbury, Kent, United Kingdom, February 03, 2007 --(
PR.com
)-- When Professional Management Development is combined with a challenging 4 x 4 off-road driving experience it provides a unique opportunity to gain a new set of skills and abilities that can be transferred into the business environment to improve business performance.
Peter Gleeson, programme director of Mind Gliding said: "I met Chris Amery, marketing manager of Land Rover Experience, at the Kent Invicta B2B event at the Ashford International Hotel. We discussed the possibility of bringing together two separate areas of expertise to produce a management training programme. We are now developing a programme that will include an off road driving experience that is linked to everyday business life."
Chris Amery agreed that: "Driving a powerful 4x4 vehicle over and through challenging obstacles is like life in business. It involves applying the power in a controlled, planned and organised way to successfully arrive at a desired outcome. Harnessing the available energy and applying traction to suit various conditions ensures efficient and effective use of resources."
Dr Eddy Kloprogge, managing director of Mind Gliding added: "We will provide an opportunity to growth and development for senior managers and business executives in a way that includes excitement and fun."
Jo James, Kent Invicta Chamber of Commerce Director, skillfully selected two chamber members to try out this programme.
• Stuart Whorlow, a partner at Finn-Kelcey & Chapman commented: "This experience provides an opportunity for people in organisation to have their confidence and abilities increased and improved. The intensity of the experience is impressive."
• Vicky Packman, a marketing research executive of Fact International said: "With guidance you can put theory into practice and use it to develop confidence and staff approach in the work place."
If you would like to know more or take part in this programme (special rates to Chamber Members), please contact Eddy or Peter of Mind Gliding: info@mind-gliding.co.uk
Mind Gliding Ltd
www.mind-gliding.co.uk
###