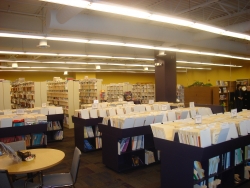 Bismarck, ND, February 09, 2007 --(
PR.com
)-- Musicians and music directors will revel in the 32,000 square-foot new Eckroth Music Plaza in Bismarck, North Dakota, a stunning, functional and fun environment designed to support a lifetime of music making. J.W. Pepper and Son, the nation's largest sheet music retailer shares this new space with the Eckroth Music store, repair facility, music lesson studios, and the music themed coffee shop String Bean Coffee.
J.W. Pepper and Son is a company with 130 year-old roots. The company was founded in Philadelphia in 1876 when James Welsh Pepper opened a small print shop in Philadelphia with the intent to serve the musical needs of the nation. The company's early success is largely attributed to his musical knowledge coupled with extraordinary business sense.
The focus of the company today is on print music retail, but in its early history, the company also manufactured instruments, published music and applied for musical instrument improvement patents, including an improved drum set bass drum pedal, which is the precursor of the system still used today.
Pepper also made history in instrument manufacturing in 1893, when according to John Phillip Sousa, Pepper manufactured the first sousaphone. In Sousa's words, "the Sousaphone received its name through the suggestion made by me to J.W. Pepper, the instrument manufacturer in Philadelphia. ... I spoke to Mr. Pepper relative to constructing a bass instrument in which the bell would turn upwards and be adjustable for concert purposes. He built one and, grateful to me for the suggestion, called it a Sousaphone. It was immediately taken up by other instrument makers..." Many of these historically important instruments are on display in the National Headquarters in Paoli, Pennsylvania.
The next generation of Pepper family members sold the company to a group of businessmen, headed by Harold W. Burtch, at which point the company turned its focus on sheet music retail. By concentrating on mail order and internet advertising, Pepper has become the primary print music source for music directors throughout the country.
In its commitment to customer service, Pepper has come full circle. In the 1870's, James Pepper declared "satisfaction guaranteed or money refunded" and today the company surpasses its competitors with their "Total Satisfaction Guarantee." Customers, both then and now, buy with confidence that their music purchase is guaranteed to fit their needs. Pepper now is located in 15 cities, and has served the needs of local musicians in Bismarck since 1998.
###