Attachment Viewing, Printing, and Faxing for Windows Mobile and Symbian Handhelds
In addition to Direct Push e-mail accounts, the business platform Cortado now offers Premium Services for viewing, printing, and faxing documents, emails, and attachments.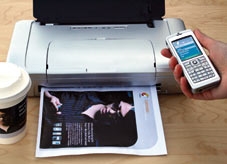 Berlin, Germany, February 13, 2007 --(
PR.com
)-- Mobile enterprise computing experts ThinPrint will be presenting their Cortado Premium services for Windows mobile and Symbian handhelds for the first time, at the 3GSM in Barcelona (Hall 2, Stand 2,1D55, 1st floor). Individual handheld users can book services now at www.cortado.com. These services can be used for viewing documents, e.g email attachments, on a display, without prior download, or for sending them directly from a handheld to a printer, fax machine, or a laptop screen. The Cortado Shortfax function allows users to compose and send faxes whilst on the go. Cortado Premium Services cost 7.98 Euro each per month, and are also available for a 10-day, no obligation, trial period. The services can be selectively used with the user's own email account or a Push email account hosted by Cortado.
The Premium Services support all handhelds with Windows Mobile 5.0 Pocket PC Edition or Symbian s60 3rd Edition operating systems. This includes T-Mobile MDAs, Vodafone's VPA, O2, xda models, the Palm Treo 750v, HP IPAQ, a number of pocket PCs on the market, as well as nearly all Nokia E- and N-Series models, such as the Nokia E50, E60, E61, E62, E70, N71, N75, N80, N91, N92, N93, and N73.
"Whether it's about viewing a Power Point attachment received via email, faxing a contract, or printing specific documents: Now individual users can also turn their handhelds into mobile offices," says Dirk Löwenberg, Business Director at Cortado Services. "Because none of the services require document download and the data is transferred highly compressed, the cost of the data transfer is moderate."
Cortado Premium Services can be booked, or tested, at: www.cortado.com.
Press photos are available for download here: www.thinprint.com/pressphotos
ThinPrint GmbH
ThinPrint is specialist for mobile enterprise solutions and for printing in distributed network environments. The solutions created by the software developer with headquarters in and branches in the and are deployed successfully worldwide by businesses of all sizes in a variety of industries. More than 500 major distributors and resellers in over 80 countries sell products made by ThinPrint GmbH. Thanks to numerous partnerships, client components using patent-pending .print technology have been integrated into the terminals, printboxes, PDAs and mobile phones of several leading hardware producers. A special role is played here by strategic partnerships with BlackBerry (RIM), Bluetooth SIG, Citrix Systems, Inc., Fujitsu Siemens Computers, Lexmark International, Inc., Microsoft, Nokia, Orange, Palm, Inc., Sun Microsystems Inc., Symbian Ltd., VMware, Inc. and XPS Software GmbH.
Press contacts
In North America:
ThinPrint, Inc., Francesca Brunello, Business Relations and Communications Manager,
Francesca.brunello@thinprint.com
, Tel.: 440.331.8446
In APAC:
ThinPrint, Stevan Caldwell, Regional Manager APAC, L 10,
275 Alfred Street / North Sydney / NSW / 2060 /
T: +61 (0)2 94600319 / F: +61 (0)2 89203835, Email: stevan.caldwell@thinprint.com,
http://www.thinprint.com
Headquarters:
ThinPrint GmbH, Silke Kluckert, Public Relations Manager,
Tel.: +49.30.39 49 31-66,
Fax: +49.30.394931-99,
Email: press@thinprint.com,
http://www.thinprint.com
###
Contact
ThinPrint.Inc
Francesca Brunello
440-331-8446
www.thinprint.com
Business Relations and Communications Manager

Contact