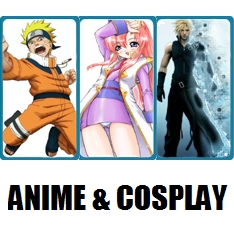 Durham, NC, February 13, 2007 --(
PR.com
)--
Moon Costumes
, a prominent online Halloween Costume retailer, announced today that it will begin selling Anime and Cosplay costumes. "Todays kids are getting tired of the same costumes year after year.", says CEO Erik Aronesty, "I'm predicting that 2007 is going to be the year that Cosplay goes mainstream."
Cosplay is a term used to describe the year-round practice of dressing up as a favorite character from a comic book, movie or video game. It is very popular in Japan, and is catching on in the U.S. and in Europe.
Moon Costumes has added 112 costumes from popular anime and manga titles. "These costumes are special because they're different from the usual. Some people are buying them even if they've never even heard of the character or the movie before.", says Erik.
The new selection includes costumes from Naruto, Bleach, Sailor Moon, Full Metal Alchemist, Trigun, Chobits and more. These deluxe costume sets include the typical jackets, robes, pants, skirts as well as bundled accessories such as headbands, sandals, sashes, wallets and more.
"Even with a limited release, we expect Cosplay to grow to 20% of our business within ne next year", confides CEO, Erik Aronesty.
Customers can, of course, still browse and purchase from Moon Costumes growing selection of more than 10000 more traditional costumes and accessories, at deeply discounted prices.
Moon Costumes is a privately held company located in Durham, NC
###
Moon Costumes
1407 Maryland Ave.
Durham, NC
press@mooncostumes.com
http://www.mooncostumes.com
(866) 768-1062