Kgadi LLC, NBA Basketball Licensed Handbag Designer, Signs with Allison Dawn Public Relations
Kgadi LLC, a licensee of NBA Basketball Logo and Trademarked Handbags, signs with Allison Dawn PR for their product launch.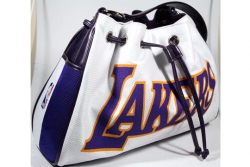 Purchase, NY, February 13, 2007 --(
PR.com
)-- Kgadi LLC is announcing their teaming with Allison Dawn Public Relations to assist in the official product launch of their NBA licensed handbag line, Kgadi (pronounced ha-tt-ie). Mokgadi Matlhako is the president and designer for Kgadi LLC, a breakthrough line of high-end handbags featuring NBA Basketball Team names, logos, and player names and numbers. Ms. Matlhako obtained her license to design her own line of NBA themed women's handbags after the merchandising department for the National Basketball Association fell in love with her original handbag designs. They promptly granted Matlhako the license to create her upscale NBA themed handbag line. The NBA Store on 5th Ave. in New York City will be carrying the line, as well as all of the basketball team stores, which are located either inside or beside their respective arenas.
Kgadi LLC has hired Allison Dawn Public Relations to assist in the product launch of Kgadi NBA Handbags. Kgadi's handbag line features eleven different bags with various basketball team names, as well as some bags featuring prominent NBA players' names and team numbers. Bags are drawstring style with jersey material on back and front and leather trim on sides, drawstring and shoulder strap. Allison Dawn PR intends to brand and promote Kgadi handbags among young female basketball fans in the teen, twenty, thirty and forty-something demographic. Allison Dawn PR will do brand and product outreach among women associated with the NBA, as well as among female celebrities who attend basketball games regularly. A publicity campaign will also be initiated within the magazine and newspaper editorial community, industry trade publications and among television and radio producers. In addition, there will be a strong push to reach out to various new media outlets. Kgadi LLC and Allison Dawn PR intend to create and establish a significant trend of wearable high-end NBA themed accessories among feminine and fashion forward women who support the game of professional basketball.
The following teams and players are currently available in Kgadi's line:
Team Logos - Miami Heat, Los Angeles Lakers, Denver Nuggets, Cleveland Cavaliers, Phoenix Suns
Players – Kobe Bryant, Lebron James, Steve Nash, Dwyane Wade, Carmelo Anthony, Allen Iverson
About Kgadi LLC
Kgadi LLC holds the exclusive license to design and manufacture high-end handbags featuring NBA Basketball Team Logos and other trademarked images, including NBA Basketball team member player names and numbers. Handbags are available for purchase through www.kgadi.com and at The NBA Store, which is located at 666 5th Avenue (at 52nd Street) in New York City. Kgadi bags will retail for $110.00USD through www.kgadi.com as well as at the NBA Store in New York.
About Allison Dawn PR
Allison Dawn Public Relations is a full-service publicity firm, focusing on customized strategic public relations campaigns in fashion, beauty, Internet, consumer goods, and entertainment. We specialize in brand building campaigns and product launches to create excitement among the media, buyers, the end consumer and the entertainment and business communities. We create innovative, attention grabbing news angles that get our clients booked in high profile print publications, on television and radio, in industry trades and in new media. We also specialize in strategic celebrity alliances and co-branding efforts with various organizations and events.
Contact
Kgadi LLC
Allison Kugel
516-942-0264
www.kgadi.com
www.allisondawnpr.com

Contact