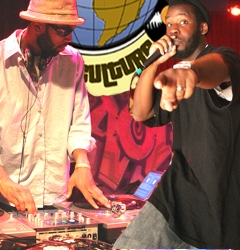 Philadelphia, PA, February 13, 2007 --(
PR.com
)-- Respect The Culture, LLC, a Philadelphia-based record label and multi-media company announced today that hip hop artists Nex Millen/Retrospective and Poesh Wonder have left Breakbread Projects and signed exclusive deals with Respect The Culture.
"I'm very excited about what's going on with Respect The Culture," said Nex Millen, whose album, "Hard To Kill: The Hip Hop Chronicles of Nex Millen" was recently released by RTC. "Breakbread was fun, and I wish those guys the best, but my goals have expanded musically and professionally in directions that are just not achievable with Breakbread."
"I'm working on my new album," said Poesh Wonder. "Much love to the Breakbread fam, but I'm hype to be working on a global scale and looking forward to collaborating with more artists both in the U.S. and in Europe."
Nex Millen/Retrospective is a Philadelphia-born hip hop artist, producer and DJ. He was a co-founder of Camden, New Jersey-based Breakbread Projects and a member the critically-acclaimed group Nuthouse. Millen has performed across the United States and throughout Europe and was the Music Coordinator for the Digable Planets 2005 Reunion Tour UK. Formerly an engineer with Sony Studios (New York) and Sigma Sound Studios (Philadelphia), he has released several recordings as an artist with former groups, produced numerous singles, albums and mix tapes for other artists and was the Music Supervisor for the very successful And1 B-ball mix tapes.
Poesh Wonder is a New Jersey-born hip hop artist. He has appeared on numerous recordings including "Breakbread Radio," "Balance is Back," and "Almost Famous." His work has resulted in worldwide acclaim, resulting in his being featured on "Historias De Q," the latest CD of Spanish hip hop phenom Quiroga and starring with Quiroga in the video for "Wah/Fuego en tu Interior." View the video at
http://www.youtube.com/watch?v=xtP9WzEVELs
.
Respect the Culture LLC is a Philadelphia-based record label and multimedia company – globalizing hip hop culture through music, fashion and art.
For more information contact Marci Krufka at Respect the Culture at 610-550-9705 or marci@respecttheculture.com or see www.respecttheculture.com.
###