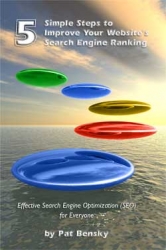 Hitchin, United Kingdom, February 14, 2007 --(
PR.com
)-- Tracker Press is pleased to announce the publication of their latest book, "Five Simple Steps to Improve Your Website's Search Engine Ranking."
Over the past few years, search engine optimisation has developed into something of a science as webmasters and business owners try to figure out how to trick the internet search engines into listing their sites near the top of the search results list. A number of big, pricey books have been written on the subject, and companies specialising in search engine optimisation have sprung up all over the world.
But it really is not that complicated! Author Pat Bensky has boiled it down to Five Simple Steps that just about anybody can follow. It's so simple that this book is fewer than 50 pages long. You won't get bogged down with boring, technical descriptions and geek-speak: this book is written in easy-to-read English, with plenty of examples and clear descriptions of technical terms where they are absolutely necessary.
By following the five steps described in this book, anybody can quickly improve the ranking of their web site in search engines such as Google and MSN. Very little technical knowledge is required; you just need to know how to create basic web pages and add them to your web site.
Five Simple Steps is available as a paperback and in e-book format:
Format:Paperback
ISBN: 9780-9546105-3-9
Price UK: £9.95 US: $12.95
e-book 9780-9546105-6-3
$9.95 – available from www.powells.com
It is available from bookstores and online book retailers such as Amazon now, and can also be ordered direct from Tracker Press. Orders placed with the publisher will receive free postage to anywhere in the world.
CONTACT DETAILS
For interviews or to request a review copy, please contact Kate Robbins or Pat Bensky at Tracker Press.
Tel: +44 (0) 1462 454566
email: kate@trackerpress.com or pat@trackerpress.com
Tracker Press • 1 Hillend Farm Cottages • Langley End • Hitchin • Herts • SG4 7PT • UK
www.trackerpress.com
###