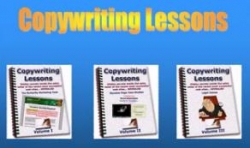 Trieste, Italy, February 16, 2007 --(
PR.com
)-- Copywriting-videos has just released 3 reports that can help Internet entrepreneurs to improve their copywriting quality and to avoid legal problems, e.g. use of third party material, information regarding privacy, terms of use, etc.
Great examples of successful sales page in 2006 and some examples of intriguing and appealing squeeze pages have been reported.
Much of this information has been analyzed and reviewed by experts in seminars and in mastermind group. It is high quality information. It is really a goldmine to increase the conversion rate of your sales pages.
Report #1 - In this special report you will discover the secrets behind the design of one of the best sales letters of 2006: Butterfly Marketing. Once you have taken all this amazing information you are ready to write a similar one for your business.
Report #2 - In this special report you will have a full review of many of the most successful squeeze pages in the history of Internet Marketing for your own profit. You will discover how to increase the signup rate for your web sites and explode your list.
Report #3 - After you read this report you will discover what you are allowed and what are not allowed to do in your Internet Business and what you need to do to prevent you and your customers from any kind of problems:
How to define the Term of service of your web site
How to state a privacy policy
How to state an ANTI-SPAM policy
What you need to do to protect your intellectual property
What you need to do to use intellectual properties of third parties (music, pictures, videos, ets.)
And much more...
You will sleep better after reading this report.
http://www.copywriting-videos.com/cwv/cwvlesson.php
###