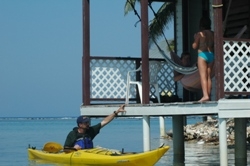 Belize City, Belize, March 07, 2011 --(
PR.com
)-- Island Expeditions is celebrating 25 years specializing in Belize vacations and is offering 5 day/6 night trips, appropriately named Paradise Islands. All IEC Paradise Island vacations begin with an inland journey to the Tropical Education Centre (TEC), adjacent to the Belize Zoo. While at the TEC guests are encouraged to explore the surrounding savannah forest through the network of interpretative trails and wildlife viewing platforms. A nocturnal tour of the Belize Zoo with a senior Zoo Keeper is also a highlight of the evening. Wildlife viewing at the zoo includes jaguars, howler monkeys, parrots, macaws and many more, including reptiles.
Upon departing the Tropical Education Centre, this tour heads to the coast of Belize to board a boat charter to the first island within the Southwater Caye Marine Reserve. Here the group is introduced to the fundamentals of kayaking safely on the Caribbean Sea prior to paddling to the first tropical island lodge. While paddling lodge to lodge, all guests carry with them is their clothing, camera and snorkelling gear. Everything else one requires – a shower, delicious meals, an ice cold drink, fresh linens and a comfortable bed is provided by the lodges visited.
The lagoons and inlets of Southwater Caye have one of world's most diverse sea environments, with an extensive community of fish, shellfish and patch reefs. Each day's activities include kayaking, kayak sailing (wind permitting), snorkelling, fishing, swimming or simply relaxing at your cabana or in a hammock on the beach with a good book. While snorkelling, you are likely to see southern stingrays, eagle rays, grouper, nurse sharks and more. If birding is more your style, come during the mating season (Feb to Apr) of the Frigate Bird. During this time period all the black males display a brilliant red pouch advertising their availability to the females.
About Island Expeditions Co. (IEC)
All Island Expeditions Belize vacations begin with a pickup upon arrival at the International Airport in Belize City. Prices include all meals, accommodation, transportation within the country, guides, group equipment and all activities. This private small group tour is open to everyone, including families with children, while no previous experience is required to participate. Other sea kayak and snorkel trips along the barrier reef and atolls are also offered.
Paradise Islands – 5 days/6 nights
Departing April 3, 10, 17, 19 & 24, May 1, 8, 15 & 22
$1639.00
For more information or to a receive free copy of the 25th Anniversary Island Expeditions Co. 36 page Belize & Yucatan Adventure Guide, please call 1-800-667-1630 or visit the website at: www.islandexpeditions.com.
###