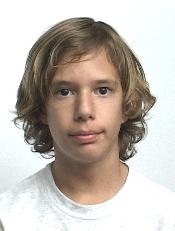 Springfield, IL, February 23, 2007 --(
PR.com
)-- The Manatee County Sheriff's Office and The Florida Department Of Law Enforcement have issued an Amber Alert for Clay Moore (13). According to Manatee County Sheriff's deputies, children waiting for the bus at Douglas Hill Place and Old Tampa Road say a man drove up to the group, grabbed Clay, put him in the truck and drove off.
Some of the children say the man had a gun. Investigators say that this appears to be a random kidnapping, and Clay did not know his kidnapper. The man who took the boy is described as a Hispanic male, driving an older, red extended-cab pick-up truck. The suspect is considered Armed & Dangerous.
Please visit
http://www.projectsafekids.org
for more details.
###