Lifepop's Stereo Pet Carrier Steals Spotlight at the Oscar's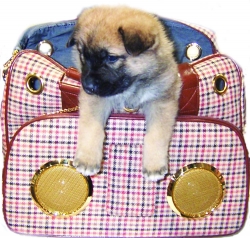 Brooklyn, NY, February 27, 2007 --(
PR.com
)-- Lifepop, LLC brings the 80's boom box ideal back and turns it into THE accessory built for today's fashion, technology, pet, celebrity and music-obsessed lifestyles. Lifepop introduced the new 2007 Beat Generation Stereo Pet Carrier to lucky stars visiting GBK Productions Oscar Gift Suites on February 22-23, 2007 at the legendary Roosevelt Hotel.
Lifepop's Stereo Pet Carrier created excited squeals of laughter, fun and disbelief from the celebrities as they learned that the large, roomy and very fashionable pet carriers have a built-in stereo and speaker system that hooks up to any iPod, MP3, DVD, CD, PSP player – even a laptop – to hear your music without being confined to the secluded world of headphones. You can travel with your dog, cat, etc. in style and leave Beethoven playing softly for Fluffy or you can rock out while Fluffy is running around the park. It is also multi-functional as a roomy airplane carry-on to hold all your essentials (with or without Fluffy) or as a gym tote with two sides of ventilation with a fully zippered ventilated top, and work out to your own yoga meditation or music on the road.
Lifepop creates fashion-forward accessories that are recognized as a successful hybrid of fashion, music and technology–creating its own divergent product category unlike no other. Lifepop's goal is to bring portable audio devices alive: to make a statement, create an attitude and the freedom for personal expression–without the headphones (and with Fluffy too.)
###
Lifepop (formerly known as Lifepod, LLC) was launched 2003 in New York City by industrial design partners Jason Entner & Heather Breen. Lifepop recently received Brand New Award from ISPO in Germany; was profiled in Entrepreneur Magazine, May 2006, the New York Post, Sept 2005; awarded Best New Product 2005, Tokyo Intl. Trade Fair 2005, and named Best Techno Accessory 2005 by Accessories magazine.
For more information, contact Heather Breen; heather@lifepop.tv, and phone 718-624-2886. www.lifepop.tv
Lifepop
45 Main Street #1004
Brooklyn, NY 11201
718-624-2886
www.lifepop.tv
Contact
Lifepop, LLC
Heather Breen
718-624-2886
www.lifepop.tv
mobile: 646-526-7155

Contact