Arctic Incentives Provides Insights on How to Plan an Incentive in Iceland
Arctic Incentives in Iceland provides planners with insights on how to plan a powerful and juicy incentive in Iceland. Furthermore the incentive expert in Iceland presents a Top 10 list of incentive activities in Iceland. The list is based on experience of the guides and the staff of Arctic Incentives working in activity operations since 1983.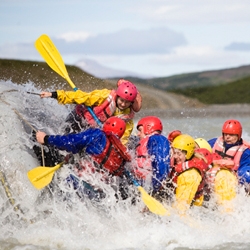 Reykjavík, Iceland, April 08, 2011 --(
PR.com
)-- Iceland, situated right beneath the Arctic Circle, is somewhat perceived as a distant place. Almost unreal, Iceland sparkles the minds with impressions of mystic landscapes, vast glaciers and rumbling volcanoes. The land of fire and ice is an image, which soon appears. But what more is there to know about this remote place? Or to ask in a better way, what more does one have to know when planning an incentive in Iceland for valued customers?
Good planning is key for Iceland incentives
Iceland is huge compared to the number of inhabitants living in it. Each square kilometer counts for only 3.1 inhabitants. This compares with 229 inhabitants per square kilometer in Germany. Henry Kröher, managing director of Arctic Incentives in Iceland says: "As soon as you move out of the Greater Reykjavik area everything becomes remote. Logistics become key and decide between failure and success of your event."
Factor in weather
The weather dimension is another key point and should be factored in right from the start of planning an incentive. With most of incentive groups searching for activities, DMC's need to know what activities are available in Iceland and which of them can be done during the time their incentive group intends to visit Iceland.
The activity top 10 for Iceland incentives
To get incentive planners started this article lists the Top 10 of day activities for incentives in Iceland for the current spring season.
#1 Rafting on Hvítá River
#2 Snowmobiling on Langjökull glacier
#3 Glacier hike and ice climbing on glacier tongue Sólheimajökull
#4 Super Jeep Self-Drive to Þórsmörk passing volcano Eyjafjallajökull
#5 Caving in Leiðarendi
#6 Golden Circle sightseeing in a Super Jeep including rafting
#7 South Shore sightseeing in a Super Jeep with glacier walk
#8 Golden Circle in a Super Jeep with snowmobiling
#9 Quad-Biking near Reykjavík
#10 Snorkeling in Silfra
Get informed
The dynamic incentive operator
Arctic Incentives in Iceland
provides further Top 10 lists for Iceland incentives on its website and offers incentive planners and DMC's with valuable insights on how to plan a juicy and successful incentive in Iceland.
With those tools at hand DMC's will familiarize quickly with Iceland. A land, which was far away at the beginning of this article, has now become the perfect choice for a next group searching for adventure.
###
Contact
Arctic Incentives
Henry Kroeher
+3544904090
arcticincentives.is

Contact