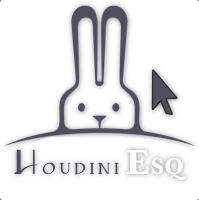 Cary, NC, April 09, 2011 --(
PR.com
)-- HoudiniESQ is a web-based legal practice management suite that can be run on-premise or in the Cloud.
With this plugin staff members can effortlessly post Invoices, Expenses, Credit Memos, Payments, Trust Deposits and Fees Earned to QuickBooks. HoudiniESQ does all the heavy lifting. No complex setup in QuickBooks is required. HoudiniESQ will create or use all the appropriate accounts, journal entries and item list as you work. No need to perform duplicate data entry. No need to export and import data into QuickBooks every month. Data moves between HoudiniESQ and QuickBooks effortlessly. If the Client, Matter/Job, or Trust accounts don't exist HoudiniESQ will create the required entries in QuickBooks automatically.
All the HoudiniESQ Plugins work with SaaS accounts and On-premise versions Practice, Elite, Solo and are free.
HoudiniESQ 1.8 has many benefits and new features.
HoudiniESQ tightly integrates with MS Word, Excel and Outlook. The Microsoft Office product suite is entrenched in today's legal practices and is an important part of a law firm's workflow. HoudiniESQ integrates natively with Microsoft Office. Law Firms can continue to use Outlook, Word and Excel while seamlessly saving important client/matter information and recording their time as they work in HoudiniESQ. These plugins do not require a third party product of any kind and install right into the MS Word, Excel and Outlook ribbons. MS Word and Excel documents can be created, edited and managed in their native applications as usual, linking documents to a Matter is effortless. Staff can optionally record the time spent composing or editing these documents. Documents are full text indexed and immediately appear under the document tab of the selected matter in HoudiniESQ. Staff members can create document merge templates in MS Word and save them as templates in HoudiniESQ. These templates can then be used to generate final documents from within Word or the HoudiniESQ interface with just a click while maintaining all formatting.
MS Outlook is fully supported and will automatically bi-directionally synchronize Outlook email, contacts and calendar events with HoudiniESQ. Linking Email to its associated Matter is effortless. Email and attachments are full text indexed and appear under the Email and Document tabs of the selected Matter immediately in HoudiniESQ. Staff members can even bill for the time spent reading and composing email. When items in outlook are linked to a Matter, the HoudiniESQ plugin creates an associated Matter folder in Outlook for easy management of matter related correspondence from within Outlook. Merge templates can be created in MS Outlook effortlessly and are available both from within Outlook and the HoudiniESQ interface.
Getting things done. HoudiniESQ 1.8 now sports a wonderful new feature called GTD My Day. With this new feature staff are aware of everything that is on their plate for the day. Staff members can place items for review onto anthers GTD screen where the recipient can review then bill for the time. For example, Jane receives a Email from a client. Jane can flag it so it will appear on John's GTD screen. John is alerted that he has an item he needs to review. With a click, John can view the email and bill for the time or optionally re-assign the item to someone else to review. As John works items on his GTD screen are removed. When all items have been removed he is assured that he accomplished all that was required for the day and nothing has fallen between the cracks.
LiveDoc: Staff members can use Microsoft Word files as merge templates in HoudiniESQ. With the LiveDoc feature in HoudiniESQ these templates become forms within the HoudiniESQ interface. Staff members design documents in Word and save them as templates in HoudiniESQ. Staff embers can then use the LiveDoc feature in HoudiniESQ to complete these MS Word files from within HoudiniESQ. Use MS Word to design a template and check it into HoudiniESQ. Whenever a staff member needs a document for a case they simply select it from the matter's document tab, fill out the remaining fields and presto a completed Word file is generated, full text indexed, and linked to the matter.
Along with the many new features in HoudiniESQ 1.8 are many improvements. Improved Billing, invoicing and batch time entry. Improved form customization, client access dashboard, integrated email client, document and email merge templates, template drafts and improved dashboards throughout.
HoudiniESQ 1.8 has a deployment option for just about every law firm and is accessible via any modern web browser, smart phone, smart pad, MS word, MS Excel and MS Outlook. HoudiniESQ can be installed On-premise and is also available as a SaaS option in LogicBit's state-of-the-art datacenter.
HoudiniESQ is available free as a on-premise install for solo practitioners.
About LogicBit Corp.
Founded by the Architect of the award winning Time Matters World Server, LogicBit Corp. is located in Research Triangle Park North Carolina. LogicBit's primary focus is the development of web-based practice management software for the legal industry.
For additional information on HoudiniESQ visit
http://HoudiniESQ.com
###