Powerball 310 is the Smashing Debut Novel from Husband/Wife Team "K.T. Reid"; High-tech Thievery with a Math Twist, this is Crime Fiction at its Entertaining Best
In this highly entertaining debut novel, Powerball 310, K.T. Reid serves up a fascinating tale of the wages of greed. Lottery insider Rodger McCormack recruits a gang of experts in a high-tech plot to steal a huge Powerball lottery jackpot. Life does not quite go as planned as Keith Evans, a young journalist, and Rodger's daughter Melissa are unwittingly drawn into the web of dirty dealings. The story moves along at a brisk pace from its intriguing opening to its satisfying conclusion.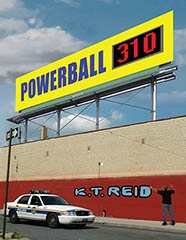 Springfield, OR, March 05, 2007 --(
PR.com
)-- In a high-tech plot to steal a huge Powerball lottery jackpot, lottery insider Rodger McCormack teams up with a computer programmer, an arrogant French mathematician, and a well-connected banker. Their scheme involves prime numbers and allows them to trick the lottery computer into issuing a winning ticket moments after the numbers have been drawn. Before their banker can secure the money, things start to go wrong. Keith Evans, a young journalist comes to town to interview Rodger, and along with Rodger's daughter Melissa, becomes entangled with the gang in a web of murder and deception. As the gang struggles to hold onto their prize, the young couple closes in on the truth.
This book is great fun. It's not too dark – no crazed serial killers or sociopaths here, but ordinary greedy people who think they're cleverer than most. The reader gets to sit back and watch how Lady Luck plays havoc with them. It's a bit of a thriller, a murder mystery spiced up with some police procedural, but much more than a simple whodunit. Two crimes collide as the unwitting heroes muddle their way to the truth. The reader roots for the good guys yet has sympathy for the bad guys too. It's a caper, a moral tale, and a love story that moves along at a brisk pace to a satisfying ending.
Readers on amazon.com are saying:
"Powerball 310 is a potent mix of greed, murder and mayhem with an unusual mathematical twist, played out against the gritty backdrop of inner city Philadelphia. It keeps you intrigued and delighted from its inventive start, to its unexpected finish." (Chemgal)
"Powerball 310 is engaging. It is well-written and well-plotted with convincing and likable characters (even some of the "bad guys"); and above all it's intelligent. It is so good that it doesn't feel like a "first novel." I read it in a couple of sittings -- it really held my attention." (Mother Goshawk)
The authors Karen and Tom Reid used the knowhow they developed during decades in the "consulting underground" to craft a piece of offbeat and thought-provoking crime fiction. The seed of the book was planted when Karen read the book "Dr. Riemann's Zeroes" and got the idea for the limerick that plays the role of a good luck charm in the book. On February 4. 2007, the Eugene, Oregon Register-Guard featured samples of the Reids' writing.
Find out more at their website: www.powerball310.com.
Powerball 310
Booksurge LLC
Publication Date: December 29, 2006
$13.95 on amazon.com
496 pages
ISBN 1-4196-5824-7
###
Contact
powerball310.com
Karen Reid
650-269-7486
www.powerball310.com

Contact