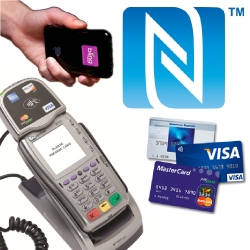 Medford, OR, May 05, 2011 --(
PR.com
)-- Merchant360, the leading Point of Sale (POS) application developer specializing in Near Field Communication (NFC) and mobile contactless integration, announces the release of its NFC Stack for Payment Terminals and the first customer takes delivery.
Currently POS Terminals with contactless scheme (Visa Paywave, MasterCard PayPass, Amercian Express ExpressPay, Chase Blink, and Discover Zip) payment solutions do not allow for easy and inexpensive integration of non-traditional applications like Bling Nation and MoneyCell to reside and share the contactless reader. Merchant360's new NFC stack allows for the sharing of the integrated contactless reader between multiple applications on a terminal and the dynamic clearing of NFC messages directed at specific applications.
Non-Scheme payment, loyalty, coupon, and ticketing or value-add solution providers have long been kept from residing on multi-application contactless terminals by lockdowns and high costs. MoneyCell had to pay very high fees to get its mobile tags encoded with a proprietary financial format keeping them from distributing NFC tags as freely as they would have liked. Other programs chose to use their own formats but this makes it difficult for the application to cohabitate with scheme payment solution terminals and requires the program manager or retailer to bear additional and unnecessary costs. Merchant360 believes that retailers who own their equipment should have open choice of applications that reside on their devices and therefore was driven to develop the NFC Stack solution.
"We've released several NFC solution integrations at the point of sale now and clients like Bling Nation and MoneyCell were continually met with high costs and incompatibility issues so we designed and delivered a solution for our clients" said Steve McRae, CEO of Merchant360.
New non-scheme solutions can still take advantage of the high security within the POS payment solutions without licensing financial formats that may not even support all that's needed. With standard NFC message formats still undefined for things like check-in service, coupon distribution and redemption, and customized receipt delivery the current implementations must maintain flexibility while still adhering to strong brand and security requirements. The solution from Merchant360 allows for remote updating of the device when new NFC applications and formats are released allowing for retailer and ultimately more consumer choice.
M360 is in talks with hardware manufacturers about integrating its NFC stack and is working with programs who want to integrate to POS solutions now.
###