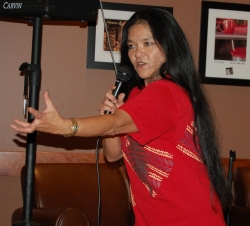 Avondale, AZ, March 07, 2007 --(
PR.com
)-- Avondale, Arizona based Storyteller.net, the largest Storytelling Resource on the Internet, presents an evening of storytelling for adults and teens on March 17, 2007. There is no charge for the 75 minute performance held at the Borders Store at 10100 W McDowell Road in Avondale and begins at 7PM. Featuring local Irish-legend storytellers and a national teller from Hawaii, the theme of the evening is "Stories from the Isle and Island: Ireland and Hawaii."
"It's great fun to be able to blend the St. Patrick Day theme with a teller directly from the Aloha festival as part of our regular monthly 'Storyteller.net @ Borders' night we have on the third Saturday of the every month. This is just one more way we're continuing to reach out to the community with some of the best in adult-level storytelling," states Sean Buvala, the Director of Storyteller.net. "It's really been our goal to bring this age-old aft form to the West Valley's performing arts events. We've had a very positive year of storytelling and look forward to continuing into 2007 as well."
The evening program, like all of the "Storyteller.net @ Borders" events, is geared toward adults, teens and tweens.
The tellers who are scheduled to appear at the Avondale "Storyteller.net @ Borders" night include:
Kathy "Tita" Collins: Kathy, a resident of Hawaii, is a featured teller this year for the "Aloha Festival" being held the same weekend in downtown Phoenix. Kathy takes some time out of her tour of Arizona to come participate in this event. She tells in the character of "Tita" who is a pidgin-speaking, attitude-having wild woman. Kathy was wonderfully received at Borders last year and is an in-demand teller in her home state of Hawaii.
K. Sean Buvala: Sean, an Avondale resident, is a nationally touring storyteller who tells world legends and stories, as he describes it, ranging from "in your life to in your face." Sean is the national director of Storyteller.net and a veteran of 21 years of storytelling.
Liz Warren: Liz is a faculty member of the South Mountain Community College Storytelling Institute. She tells Irish tales researched for and from her many trips to Ireland as well as teaching the "Irish Storytelling Tradition" classes both here in Arizona as well as Ireland.
Penny Morningstar: Penny is a full-time elementary school teacher, a regular teller at these events, and a student in the South Mountain Community College storytelling certificate program. She tells both engaging personal tales and world legends and myths.
For more information about this event, please visit www.storyteller.net or contact Sean Buvala at (623) 298-4548.
ABOUT K. SEAN BUVALA AND STORYTELLER.NET
The Avondale, Arizona based Storyteller.net is one of the premier Internet site for those wanting to learn more about storytelling, find storytellers and storytelling events, hear and read stories. Visitors to Storyteller.net will discover more than 150 articles relating to storytelling in their growing database. Storyteller.net on-line services are free to the public. Well travelled throughout the United States, K. Sean Buvala has been presenting workshops, performances, retreats, consultations and training for schools, libraries, churches and corporations since 1985. Specializing in creativity and the arts, Sean has trained and presented events for thousands of teens and adults throughout the United States. Sean's latest CD projects are available at http://www.storytellingproducts.com .
"Expert Consultant for the Press, Television and Radio:"
Storytelling (both traditional and digital), Performing artists, Public Speaking, Corporate training, Gender based (males) adolescent education and ministry.
PROMOTIONAL PHOTOS (No photo credits are required.)
Current (03/01/07) Promotional photos of Sean Buvala are available for download at:
http://www.storyteller.net/images/sean_buvala_borders.jpg
http://www.storyteller.net/images/sean_buvala_borders2.jpg
http://www.storyteller.net/images/sean_buvala_borders3.jpg
Kathy "Tita" Collins:
http://www.storyteller.net/images/kathy_collins_storyteller.jpg
CONTACT INFORMATION:
K. Sean Buvala
Storyteller.net
623.298.4548
http://www.storyteller.net
http://www.seantells.com
sean@storyteller.net
###