"All In The Family" an Anthology by Janice Sims, Maxine Thompson & Melanie Schuster
All the Johnson sisters come home for the family reunion. Will there be a showdown at the festivities?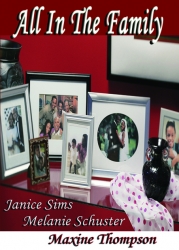 Rocky Mount, NC, March 07, 2007 --(
PR.com
)-- The Johnson sisters haven't been home to tiny Mason Corners, South Carolina for a long time. Their mother, Sara, feeling neglected, gives them an ultimatum: Come to the family reunion... or else!
In Best Selling Author, Janice Sims's Momma's Baby, Daddy's Maybe, perfect wife and mother, Candace, 41, of Charleston, has to come to terms with the nasty paternity rumors that have been making the rounds in the family since she was a child. Angela, 25, a super-model wannabe in Miami wants to come home, but what will the man she left behind do when she tells him what she had to do to survive while they were apart?
In Where My Heart Is Melanie Schuster gives us a glimpse into the life of Sharon, an A-personality, 32 year old successful New York City television producer who has excelled at everything she's ever tried. What drives her to always be on top? In striving for perfection, has she missed the signals her handsome co-worker has been sending for two years now? She finds out when she asks him to pose as her man at the family reunion.
And in Maxine Thompson's Summer of Salvation Debra, 35, a casting director in Hollywood brings her Mexican-American husband home for the first time. They eloped. Will Debra and her mother have a showdown during the festivities?
Whatever happens at the Johnson Family Reunion, you know that it will be kept... "All In The Family."
This book will be released in April 2007.
###
Contact
Dreams Publishing Company
Toni Child
1-877-209-5200
www.dreamspublishing.com
Teresa Rhodes
Teresa@dreamspublishing.com

Contact