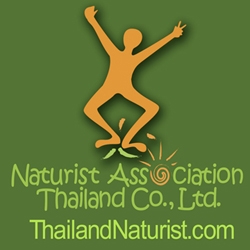 Bangkok, Thailand, May 13, 2011 --(
PR.com
)-- A person would think a western concept such as naturism or nudism would not be accepted in Asia, but they would think wrong. People are really basically the same worldwide. Studies find the same percent of the American or European populations that are nudists applies to any other population group in any other culture. There are many people that practice naturism just being nude at home and don't know the aspects of social nudism. The difference is how the culture they live in is accepting of naturism or nudism thus enabling the people to practice social naturism.
With only a web site and no other marketing efforts the Thailand Naturist Association started in 2007, the beginning looked promising and over the first 2 years it has gradually grew. Once some internet marketing and SEO were put into practice, in addition to naturist member meetings and weekend excursions of members the word spread, and it began increasing very quickly. The number of visits to the Thailand Naturist website has nearly doubled in the last 9 months achieving over 10,000 hits a week by November of 2010 an increase of over 180%. Actual membership shows no sign of slowing down but only ever-increasing, in fact it has increased 330 percent over the last 2 years.
Thailand Naturist Association says their efforts in enlightening Thai resorts to try a clothing optional stance have been very fruitful. They have found once Thai resorts tried being clothing optional the resorts liked it. Over and over again they say they hear the same testimonial from the resorts, "We like the naturist kind of people, they are polite, quiet, and pleasurable to have a quests." Just the kind of guests any resort is looking for. In fact naturist resorts have a higher guest return rate than average resorts. The Thailand Naturist organizers are always exploring new resorts and explaining the concept and benefits of being a clothing optional resort, and that this unique market segment is worth their consideration. Thailand Naturist Member Resorts has increased 200 percent in the last 5 months. Through Thailand Naturist's good naturist practices and conduct there are day beach resorts where visitors can swim in the ocean and sun bath in the nude, clothing optional resorts as well as nude cruises and guided jungle treks.
Building a naturist organization in Thailand or Southeast Asia is very different than building one that has a more open culture, government and press. Resorts can't market the naturist concept in a completely open market; they have to let potential members find them. Some of Thailand Naturist Association members have been home naturists for many years and didn't know there was such a concept as social naturism, now thanks to the internet they are finding out and finding a regional organization.
Thailand Naturist members as any members of any naturist organization come from a cross section of society; they are regular people who have regular jobs. Some are workers, doctors, government officials, military personnel, industrial workers, or bankers you name it they make up the membership.
Thailand Naturist members come from all over the world, there are members on 5 continents and all major religions, this is not usual as Thailand is a favorite travel and holiday destination, says one of Thailand Naturist organizers.
The year round pleasant weather is contusive to naturism and the population is friendly so it is natural that Naturism has bared itself in Thailand and Southeast Asia, and is in full bloom.
Naturist Association Thailand Co., Ltd.
4/41-42 Moo 3, Thanyakarn, Maiyalap
Ramintra Soi 14
Bangkok 10230, Thailand
Phone: +66 (0)81 629 0117 +66 (0)81 629 0117
www.Thailandnaturist.com
info@thailandnaturist.com
###