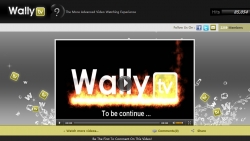 San Francisco, CA, May 17, 2011 --(
PR.com
)-- With the internet being as popular as it is has ever been, it comes as no surprise that more people have turned to it for their everyday video needs. Despite the availability of several different sources to watch
online videos
, there remains the absence of a single website to meet the majority of viewer needs. That was all true up until the advent of Wally.tv.
Wally.tv strives to provide a convenient and content-rich viewing experience for users. The site categorizes all online videos into a variety of popular channels to make it easier for viewers to find what they want easily. With quality content available to suit different preferences, people can now avoid the hassles of switching back and forth between different video sites.
"While there are plenty of different video sites that you can go to and watch online videos right now, the fact remains that people are still navigating to more than one site in order to meet all their video needs. The goal of Wally.tv is to provide users a single location that not only satisfies their video needs, but also does so in a quick and friendly manner," said Timothy, CEO of Wally.tv.
Along with a completely reinvented user-interface, Wally.tv also integrates the latest social networking features popularized by pioneers in the industry, such as Facebook, YouTube, and Twitter. The melding of these two seemingly different services helps to provide users with recommendations better suited to their tastes. It also enables a better rating and sharing system.
The pre-beta teaser edition of Wally.tv gives the audience a window into the types of video interaction that they can expect. It invites users to view some viral videos, funny videos, movie trailers, participate in relevant discussions, test their video trivia knowledge in a specially designed Character test(movie quiz), and most importantly, provides wally.tv with honest feedback and criticism.
Wally.tv is by no means a finished product, nor does it try to be. Its aim is to grow along with our community. It is extremely excited to introduce what it has been working tirelessly on and cannot wait show users its efforts. Everything visitors experience in the pre-beta teaser is just a fraction of what they should expect to find in the true release. Together, Wally.tv tries to better understand its users need and, in the process, builds a better video community.
Wally.tv's Pre-Beta Teaser site has gone live on May 11th, 2011.
About the Company
For more information, visit the Wally.tv Pre-Beta Teaser site at:
www.Wally.tv
Media Contact
Andrew: mediasolution@Wally.tv
###