New Film with Hal Holbrook Recognizing a Forgotten Band of Brothers Gets Congressional Kick-Off
New DVD, Silent Wings: The American Glider Pilots of WWII, narrated by Hal Holbrook will release March 20th with special Congressional press conference and screening for members of Congress.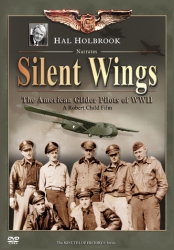 Washington, DC, March 13, 2007 --(
PR.com
)-- Rob Child & Assoc., LLC announced today that director Robert Child's new film, Silent Wings: The American Glider Pilots of WWII, narrated by acclaimed actor Hal Holbrook, has been selected by New York Congresswoman Carolyn McCarthy to be the subject of a special Congressional Press Conference in Washington DC in the Rayburn Office Building on March 20, 2007. Robert Child, the film's writer and director and resident of Bucks County, PA, is scheduled to speak at the press conference along with the Chairman of the National WWII Glider Pilot's Assoc., Inc., Michael J. Samek.
During WWII, 6000 young Americans volunteered to fly large unarmed cargo gliders into battle. For these glider pilots every mission was do-or-die. It was their task to repeatedly risk their lives landing the men and tools of war deep within enemy-held territory, often in complete darkness. Gliders played a critical role in nearly all major WWII offensives including Normandy, Market Garden, The Battle of the Bulge and Varsity (the invasion of Germany). Thousands of lives were saved and battles won because of their heroic efforts.
Congresswoman McCarthy, author of a joint Congressional resolution honoring America's WWII glider pilots, has also scheduled a special screening of Silent Wings: The American Glider Pilots of WWII at 6pm on the 20th in Washington for all members of Congress.
"When I was first told of this development by my distributor, Inecom Entertainment in Pittsburgh, they began the phone call with 'Are you sitting down?'" Child reported.
Child went on to say that, "The notoriety is especially welcome to the veteran glider pilots whose bravery and accomplishments are virtually unknown to the American public. With the Congressional press conference and screening coinciding with the March 20th release date of the Silent Wings DVD, Americans will now discover a new 'Band of Brothers' whose inspiring story will now be told."
For additional information:
Hon. Carolyn McCarthy Robert Child
Press Secretary – George Burke (Office) 215-369-1453
(202) 225-5516 r_child@comcast.net
www.robchild.com
Julie Halapchuk
Marketing Communications
Inecom Entertainment Company, Inc.
888-258-5164
jhalapch@Algor.com
###
Contact
Rob Child & Associates, LLC
Robert Child
215-369-1453
www.robchild.com

Contact