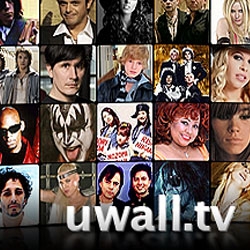 Buenos Aires, Argentina, May 18, 2011 --(
PR.com
)-- DreamDesigners is releasing uWall.tv a new way to listen and watch legal music on the web.
With YouTube being the number one source of videos today, it is common that people use it to find music videos despite results come with videos of interviews, parodies and things that are not just songs. In addition to that the results can not always be played as a playlist without having to refresh on each video. That was all true until the arrival of uWall.tv.
uWall.tv objective is to let users access the music they are looking for in a fast and simple way. The site categorize artists in different huge walls by genres with small pictures that when clicked opens a playlist that plays instantly the music of that artist, then you can filter this playlist by popular songs, HD content, artist albums, related artists, and more. You can also use the search box to look for the artist or song that you want if you don't find the artist on the wall.
"We created uWall.tv so people can find new music in the genres they like and also listen to artists that they may have forgotten, we also notice that a lot of people uses youtube to play music and that it was not easy to let music play in the background while you are working, studying or in a friends meeting," said Sebastian Vaggi, Co-Founder of uWall.tv.
Along with a completely reinvented user-interface, uWall.tv also let users create their own playlists, this playlists are ranked using Facebook likes, smiles to that list, and favorites. If visitors don't want to register they can login using their Facebook account, if they do this they will access to their friends music feature that let users listen to their Facebook friends music likes.
"I'm surprised by the reaction of the users, they love the site, and that's very important for us, to keep empowering it. Every time we make a new feature, they share it with their friends. It's Shocking!" said Julio Chamizo, Co-Founder of uWall.tv.
uWall.tv transforms YouTube in a giant jukebox that will keep users listening and watching music for hours, it have more than 15000 users right now and near 30000 Facebook fans.
###