MCCSA Celebrates the Return of Jade Esteban Estrada
The Metropolitan Community Church of San Antonio welcomes back solo theatre artist Jade Esteban Estrada for the encore performance of ICONS: The Lesbian and Gay History of the World, Vol. 1. Hector Saldana of the San Antonio Express-News calls him "a show biz messiah."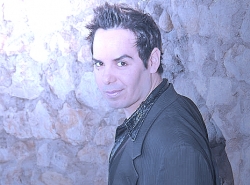 San Antonio, TX, March 14, 2007 --(
PR.com
)-- Comedy Central star returns to San Antonio for encore performance of 'hilarious' and 'poignant' gay history show. Jade Esteban Estrada to perform benefit for MCCSA , playing six pivotal characters the highly acclaimed solo musical ICONS: The Lesbian and Gay History of the World at MCCSA Apr 4.
The Metropolitan Community Church of San Antonio is proud to announce the encore performance of ICONS: The Lesbian and Gay History of the World, Vol. 1, a solo musical written and performed by the nationally-acclaimed solo theatre artist and San Antonio native Jade Esteban Estrada (2005 Performance Artist of the Year) at 7:30 p.m. Wednesday, April 4, 2007. The performance will be held at the MCCSA located at 611 East Myrtle in San Antonio, Texas. The event is wheelchair accessible and appropriate for ages 13 and up. Show duration is 65 minutes with no intermission. American Sign Language interpretation will be provided. The celebrated actor will sign autographs immediately after the show. Tickets are $12 general admission and $10 for students and seniors. All proceeds will benefit MCCSA. (Estrada insures that "no one will be turned away at the door due to lack of funds") For information call 210-857-4233 or log onto www.getjaded.com or www.mccsa.org.
Beauty. Art. Flamboyance. Love. Struggle. Fame. The man The Advocate and Out Magazine call "the first gay Latin star" celebrated the world premiere of ICONS at the 2002 Columbus National Gay and Lesbian Theatre Festival in Columbus Ohio. In the show, Estrada portrays Sappho, Michelangelo, Oscar Wilde, Gertrude Stein, Sylvia Rivera and Ellen DeGeneres. The show made its San Antonio debut in January 2005 at The Saint.
"'ICONS' is part history lesson, part musical, part politics and all entertainment," states Jennifer Chung of the San Diego Daily Transcript. Tom Sime of the Dallas Morning News calls it, "funny and irreverent… a feel-good session for gay people."
ICONS: The Lesbian and Gay History of the World, Vol. 2 debuted at the CNGLTF in 2004 winning the Audience Favorite Award in Solo Performance. In the sequel Estrada portrays Alexander the Great, Queen Christina of Sweden, Susan B. Anthony, Billie Jean King, Harvey Milk and 9/11 hero Mark Bingham. The show made its San Antonio debut at the Bonham Exchange Ballroom in October 2005.
ICONS: The Lesbian and Gay History of the World, Vol. 3 debuted at the CNGLTF in 2006 and won the Best Solo Performance and Best Original Music awards. In the last segment of the trilogy, Estrada took on the roles of biblical Naomi, King James, Bessie Smith, Greg Louganis and Mary Cheney, the lesbian daughter of U.S. Vice-President Dick Cheney.
In October 2006, the Metropolitan Community Church of San Antonio hosted a sold-out performance of "Tortilla Heaven," the solo play performed by Estrada and written by Celeste Angela Estrada.
"Jade Esteban Estrada is a brilliant young writer and performer. It was an honor to experience the ministry of this modern pioneer of the gay movement," states Rev.Troy Perry, Founder of the Worldwide Metropolitan Community Church.
"I've seen Jade Esteban on stage four times before, but when I saw him portraying Mary Cheney, I realized he wasn't only celebrating gay icons. He was using irony to tell us that not all of our gay icons are people that we love or respect. It was incredibly clever," stated Thaddius Novack, Creative Director of Jersey City Lesbian and Gay Outreach.
"What he is doing is important for our LGBTQ youth to experience. I was certainly educated tonight," stated Doreen DeJesus, Communications Director for Brooklyn Pride.
Formally the choreographer to television personality Charo and a scratch vocalist for the Back Street Boys, Estrada came to international attention when Out Magazine christened him, "the first gay Latin star" in 2000. Estrada released his debut CD "Angel" (Vicarious) in 2001 and in 2002 took part in the "Being Out Rocks" (Centaur) CD compilation in honor of National Coming Out Day for the Human Rights Campaign.
In October 2006, Kentucky Governor Ernie Fletcher paid tribute to Estrada by commissioning him the title of "Kentucky Colonel," the highest honor awarded by the Commonwealth of Kentucky that acknowledges outstanding ambassadors of goodwill and fellowship around the world. The Texas native joined other honorary colonels which include Winston Churchill, Ronald Reagan, Bob Hope, Joan Crawford, Johnny Depp, Muhammad Ali and Pope John Paul II.
Estrada's television credits include appearances on the Emmy-nominated "In the Life TV" on PBS, "Friday Night Lights" on NBC and "The Graham Norton Effect" on Comedy Central. His popular Latin dance music can be heard on the Golden Globe and Emmy award-winning police drama, "The Shield" on the FX Network.
"Most performers would be happy to have a fraction of Jade Esteban Estrada's career," states Marty Rosen of the Louisville Courier-Journal. Hector Saldana of the San Antonio Express-News calls him "a show biz messiah." Roy Proctor of the Richmond Times-Dispatch calls him "a master entertainer."
Estrada has toured the U.S. with his five other solo shows which include "It's Too Late... It's Already In Me," "Tortilla Heaven," "Pico de Gallo" and "Gay Christian, Gay Muslim, Gay Jew."
Estrada will speak at the international "Behind the Rainbow" Queer Studies Easter Symposium in Mexico City on April 11, 2007 and will also be the headlining act for the Transgender 2007, the annual conference of the International Foundation for Gender Education in Philadelphia on April 13, 2007.
For further information or to request high resolution artwork or an interview, please contact Greta Golding at vicariouspr@aol.com, call 646-342-8647 or visit www.getjaded.com.
"Long before Estrada wraps himself with a rainbow-colored flag at the show's end, he's proven that he's a master entertainer with a message to convey."
RICHMOND TIMES-DISPATCH
"Without a doubt, the best entertainment dollars I spent this year went to ICONS: The Lesbian and Gay History of the World, Vol. 1 with Jade Esteban Estrada."
TAMPA BAY GAZETTE
"Catch ICONS as soon as you can, or you will surely live to regret it."
CURVE MAGAZINE
"Estrada is a drama queen with a lesson plan."
KNOXVILLE METRO PULSE
"Estrada's bug-eyed portrayal of Gertrude Stein is brilliant."
STYLE WEEKLY
Upcoming Performances:
Mar 22 - Bethlehem, PA
Mar 24 - New Britain, CT
Mar 24 - New York, NY
Mar 26 - Bowling Green, OH
Mar 27 - Cincinnati, OH
Mar 31 - Corpus Christi, TX
Apr 4 - San Antonio, TX
Apr 11 - Mexico City, MEXICO
Apr 13 - Philadelphia, PA
Apr 16 - Muncie, IN
Apr 22 - San Antonio, TX
April 24 - Emporia, KS
May 8 - Houston, TX
May 10 - Miami, FL
May 18 - Yakima, WA
May 27 - Moscow, RUSSIA
Jun 8 - San Antonio, TX
Jun 9 - Austin, TX
Jun 14 - Wilmington, DE
Aug 4 - Fire Island, NY
Aug 30-Sept 2 - New Orleans, LA
Sept 18 - Chicago, IL
Oct 3 - Houston, TX
Nov 1 - Prescott, AZ
Nov 14 - San Antonio, TX
www.GetJaded.com
Photo by Peter Diantoni.
###
Contact
Vicarious New York
Greta Golding
646-342-8647
www.getjaded.com

Contact