Print Functions for BlackBerry via Subscription
BlackBerry users can now book a service through www.cortado.com/blackberry enabling transfer of their emails and attachments to a laptop monitor or to a Bluetooth printer.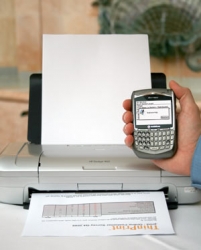 Berlin, Germany, March 14, 2007 --(
PR.com
)-- ThinPrint, a member of the BlackBerry® ISV Alliance program and an expert on Mobile Enterprise Computing, now offers its Mobile Document Output System Content Beamer for BlackBerry® as a hosted solution. BlackBerry users can print their emails and attachments through Bluetooth® or can transfer to a laptop monitor with Print-to-Screen. This service costs 8.98 USD a month and can be ordered here: www.cortado.com/blackberry. Furthermore, it's also possible to send documents to fax machines or to compose and send faxes whilst on the go. Those interested can test this service for 10 days no charge.
The functions are accessible within a few minutes. The requirements are simply a registration and a download of the client software. After setting up the software on the BlackBerry handset, the BlackBerry applications, news, adress book, calendar, tasks and notes will automatically show a new "print" menu option, which enables sending content to printers or laptop monitors. This solution is available in connection with the BlackBerry® Internet Service as well as the BlackBerry® Enterprise Server.
"Individual BlackBerry users also have the chance to upgrade their office functions for their BlackBerry smartphone with Cortado," says Dirk Löwenberg, Business Director of Cortado Services. "For firms with a larger number of BlackBerry users and a BlackBerry Enterprise Server we offer the Content Beamer for BlackBerry, Corporate Version."
The Cortado Services are available for booking at
www.cortado.com/blackberry
.
A free demo version of the Corporate Version Content Beamer for BlackBerry smartphones is ready for download from the manufacturer's website at www.content-beamer.com/blackberry.
Press photos can be accessed here: www.thinprint.com/pressphotos/
ThinPrint GmbH
ThinPrint is specialist for mobile enterprise solutions and for printing in distributed network environments. The solutions created by the software developer with headquarters in and branches in the and are deployed successfully worldwide by businesses of all sizes in a variety of industries. More than 500 major distributors and resellers in over 80 countries sell products made by ThinPrint GmbH. Thanks to numerous partnerships, client components using patent-pending .print technology have been integrated into the terminals, printboxes, PDAs and mobile phones of several leading hardware producers. A special role is played here by strategic partnerships with BlackBerry (RIM), Bluetooth SIG, Citrix Systems, Inc., Fujitsu Siemens Computers, Lexmark International, Inc., Microsoft, Nokia, Orange, Palm, Inc., Sun Microsystems Inc., Symbian Ltd., VMware, Inc. and XPS Software GmbH.
Press contacts
In North America:
ThinPrint, Inc., Francesca Brunello, Business Relations and Communications Manager, Francesca.brunello@thinprint.com, Tel.: 440.331.8446
In APAC:
ThinPrint, Stevan Caldwell, Regional Manager APAC, L 10,
275 Alfred Street / North Sydney / NSW / 2060 /
T: +61 (0)2 94600319 / F: +61 (0)2 89203835, Email: stevan.caldwell@thinprint.com,
http://www.thinprint.com
Headquarters:
ThinPrint GmbH, Silke Kluckert, Public Relations Manager, Tel.: +49.30.39 49 31-66,
Fax: +49.30.394931-99, Email: press@thinprint.com, http://www.thinprint.com
The BlackBerry and RIM families of related marks, images and symbols are the exclusive properties and trademarks of Research In Motion Limited
###
Contact
ThinPrint.Inc
Francesca Brunello
440-331-8446
www.thinprint.com
Business Relations and Communications Manager

Contact