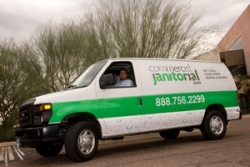 Denver, CO, June 02, 2011 --(
PR.com
)-- One of the nation's top office cleaning companies, Commercial Janitorial, announced Tuesday a major corporate restructuring that will enable it to focus more aggressively on the
Denver Office cleaning
market. A move that comes on the heels of similar announcements in the last few months in various US markets. The company stated that Will Scholtz will be tapped to head up operations as General Manager of the Colorado market.
"We looked at the Denver market and saw a lot of room to grow. No other company in the area has the experience in Green cleaning that we have," Scholtz said. In fact, the company plans to make this focus on green cleaning a central point of their message to Denver's businesses.
"We've learned a lot about what it is that businesses want in terms of green cleaning. They don't want marketing hype, they want something that is going to positively affect their business," Scholtz went on to say.
The company, which was founded in 1994, has been somewhat of a pioneer in the green cleaning business, implementing the latest in green cleaning techniques, products and equipment such as using cleaners that don't emit VOCs (volatile organic compounds) emissions. Recent EPA studies have shown that offices that do not use these in their cleaning routine actually have less sick days compared to those that do. "It is definitely a win-win for everyone, the buildings we clean are just as clean, it costs the same and everyone is healthier. Companies that don't demand this are throwing money away."
The company plans to initially focus on the Denver office cleaning market providing service to Denver-Aurora-Broomfield market, but has plans to move quickly into both the
Boulder office cleaning
and
Colorado Springs office cleaning
markets.
Founded in 1994, Commercial Janitorial has expanded to become one of the largest cleaning companies in the United States providing a variety of commercial cleaning and building maintenance services.
For more information visit http://www.denver-officecleaning.com/.
###